(Ski Club) Nozomi Maruyama Wins at the International Ski Jumping World Cup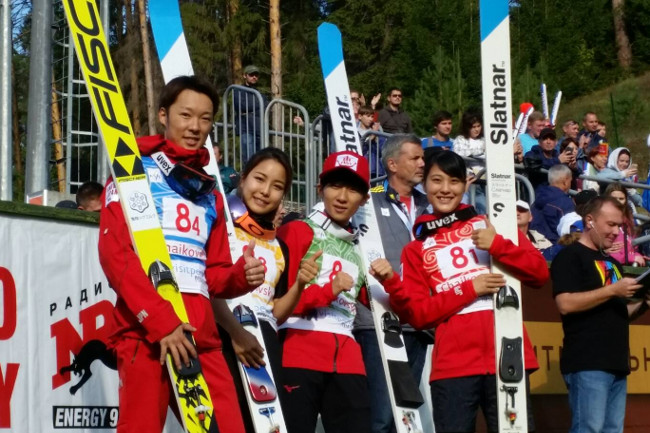 The four members of Team Japan (from left: Kobayashi, Takanashi, Sato, and Maruyama) (Photo: Nozomi Maruyama)
Nozomi Maruyama (a second-year student in the School of Political Science and Economics) of the Meiji University Athletic Association's Ski Club competed in the Ski Jumping World Cup "FIS Summer Grand Prix" hosted by FIS (International Ski Federation) held on September 7-9 in Chaykovsky, Russia, winning in the mixed team competition as a representative of Japan.

The mixed team event is an event in which two men and two women from each country, totaling 4 members, compete head-to-head with other national teams for international rankings based on the team's total score. Competing in the event for team Japan along with Maruyama were Yukiya Sato, Sara Takanashi, and Junshiro Kobayashi.

On the first jump Maruyama recorded a distance of 129.0 m, surpassing the K-point (125.0m), and on the second jump recorded a distance of 124.0 m, contributing substantially to the team's score. Team Japan recorded a combined score of 974.8 to hold back Slovenia and Norway to win the competition.

Maruyama was also selected to compete for the Ski Association of Japan's "2018/2019 SNOW JAPAN Strengthening Specified Player," and is expected to become increasingly more active in the future.