Rakuten Eagles Select Yoshiaki Watanabe of the Baseball Club in Pro Baseball Draft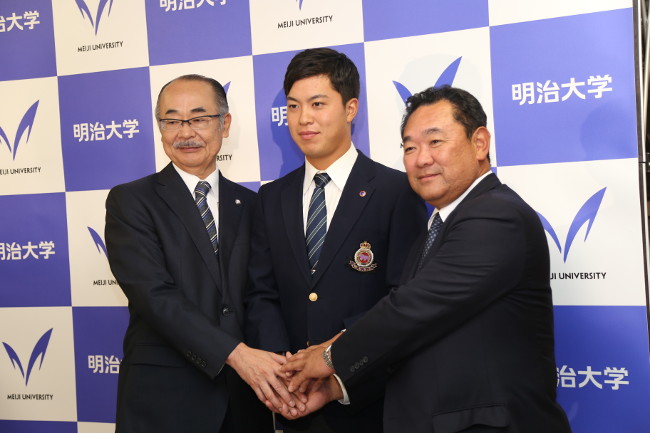 Director Inoue (left), Coach Yoshinami (Right) and Watanabe at a press conference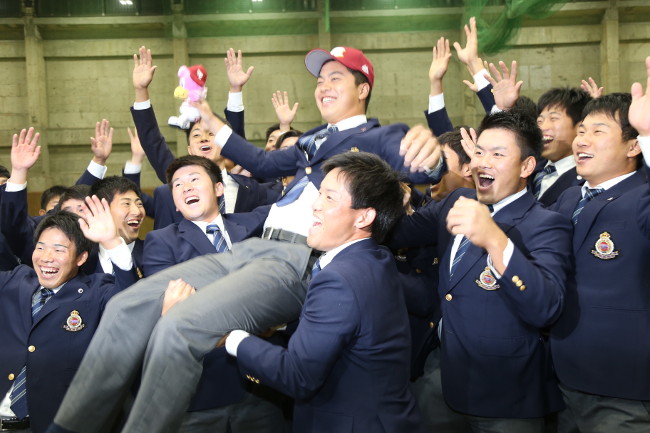 The Pro Baseball Draft, a meeting in which 12 professional baseball teams acquire new talent for the upcoming season, was held on October 25 in Tokyo, where Yoshiaki Watanabe (a fourth-year student in the School of Political Science and Economics) of the Meiji University Athletic Association Hardball Baseball Club was selected sixth by the Tohoku Rakuten Golden Eagles.

"First, my goal is to become a starter, so I'm going consider everyday a training experience and a chance to grow in a highly competitive environment," said the newly drafted Watanabe regarding his ambitions upon going pro.

In addition, Taisei Yoshida (Meiji Yasuda Life Insurance Company / 2017 graduate of the School of Global Japanese Studies) has been selected eighth by the Tokyo Yakult Swallows.