Meiji University President Keiichiro Tsuchiya made a courtesy call on Hao Ping, the new president of Peking University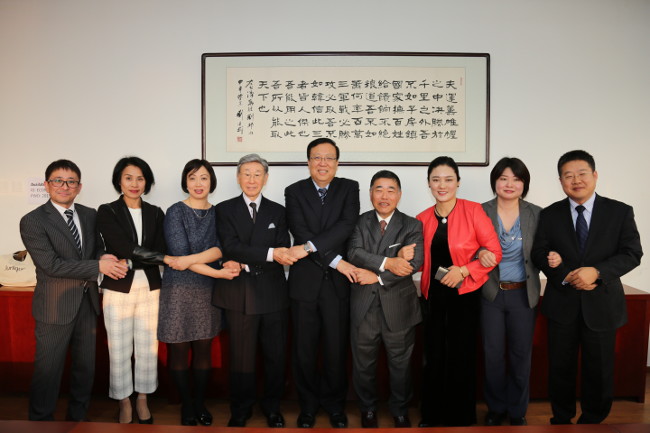 Building the bond of deepening exchange. Hao Ping, president of Peking University (center) and Keiichiro Tsuchiya, president of Meiji University (right of center).
Meiji University President Keiichiro Tsuchiya visited Hao Ping, the new president of Peking University, in China on November 2 celebrating his inauguration on October 23. In the meeting, they exchanged opinions on culture, arts, and sports beyond the scope of the academic exchange agreement in 2009.

Hao Ping of Peking University welcomed him and expressed his gratitude for the long-term exchange with Meiji University. Hao Ping mentioned that a student of Peking University had explained about the Meiji University manga library reading room of there in the symposium with students held at Peking University when Prime Minister Abe visited China on October 26. He also mentioned that he has been enlightened by the attitude of valuing traditional cultures in Japan such as calligraphy, seal culture, and the tea ceremony. He added that he has received strength from a lot of friends in Japan through the history of 40 years of reform and open-door policies.

It was the first meeting with a president of a Japanese university for Hao Ping since he was inaugurated as the university's new president on October 23. An agreement was made on the effort to promote mutual understanding through exchanges between young people in the meeting between Prime Minister Abe and President Xi Jin Ping on October 26, and the table tennis exchange with Peking University held on November 3 was the first exchange event, which attracted attention.