Table tennis exchange with Meiji University Athletic Association Table Tennis Club in Peking University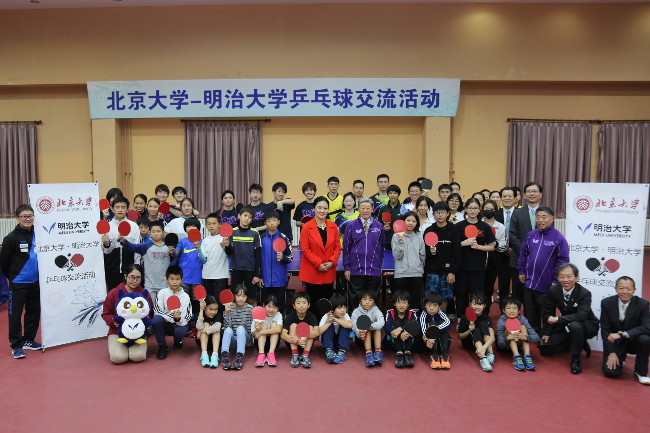 All members participated in a ceremonial photograph at the end.
The Meiji University Athletic Association Table Tennis Club held an exchange event with the table tennis club of Peking University in the gymnasium of Peking University on November 3. In the Japan-China summit meeting in October, an agreement was made on the effort to promote exchanges between young people, and an effort was made to promote mutual understanding through such exchanges.
Around 150 students were invited from Japanese School of Beijing and Beijing Yue Tan Middle School to the exchange match, and the heated rally between the students of both universities received cheers of support. The people concerned such as Meiji University President Keiichiro Tsuchiya, Chief Minister-Counselor Noriyuki Shikata, and members of the Meiji University Chinese Parents Association that has just been established also came to cheer the students on.
Keiji Kodama, chief director of the Table Tennis Club, said firmly, "the bond was strengthened further through the exchange." Meanwhile, Liu Wei, the chief director of the Peking University table tennis club, also said with a smile, "the two countries have traditionally shared the value of collaborating with each other through the table tennis exchange. Table tennis is a bridge of friendship."
The table tennis exchange event with Peking University has also been held at the Surugadai Campus of our university in July 2017.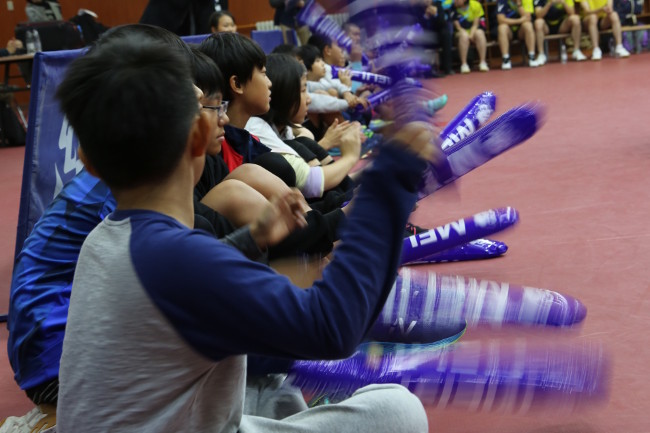 Hit the stick balloon and cheer.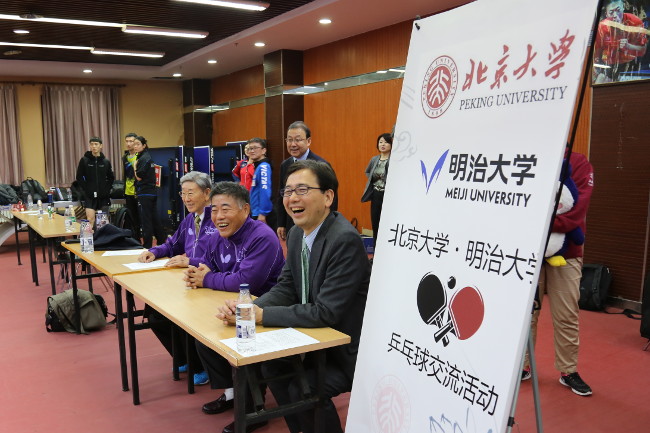 Enjoying the exciting match (From the front: Governmental Minister Shikata, Meiji University President Tsuchiya, and Chief Director Kodama).