University of California, Berkeley Prof. Judith Butler Awarded Honorary Doctorate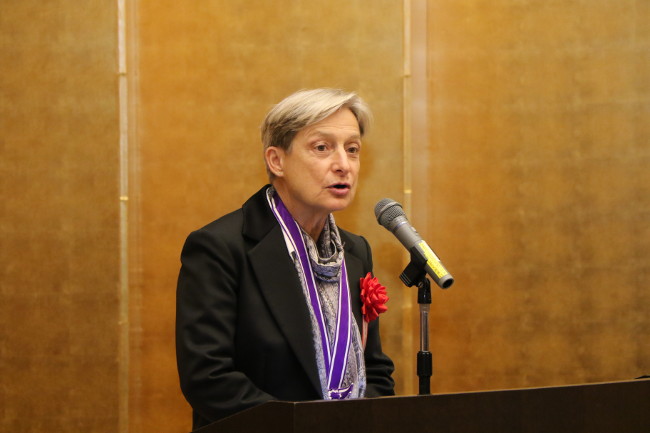 Professor Judith Butler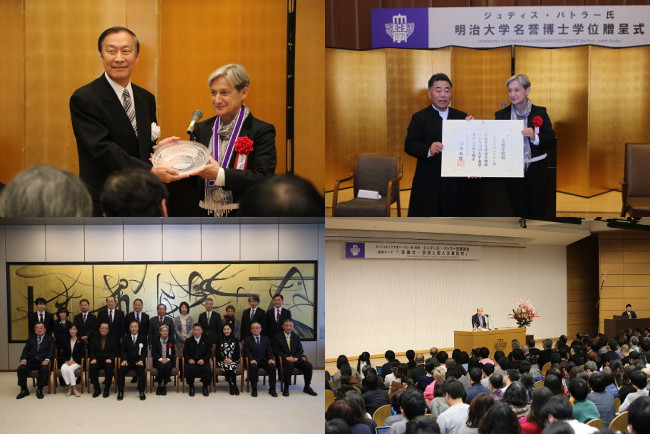 Meiji University awarded Judith Butler, Professor of Rhetoric and Comparative Literature at University of California, Berkeley, an honorary doctorate on December 11. Professor Butler was presented with the award by University President Keiichirou Tsuchiya in a ceremony at Kishimoto Tatsuo Hall on the 23rd floor of Liberty Tower at Surugadai Campus.

Known as one of the world's most renowned philosophers, Judith Butler has made an important social contribution to the world by philosophically elucidating various complex issues to be addressed such as violence, discrimination, persecution, war, and terrorism, as well as identifying and advancing ways to eliminate them using elaborate words and bold action. She was recognized and commended for her work in this area and awarded an honorary doctorate.

Upon receiving her honorary degree, Professor Butler resolvedly stated, "bestowing this title upon me is the same as honoring my field of research," and "to make the world a freer and more equitable place, we have to transcend ignorance in order to make a determination to change society."

After the presentation ceremony, the venue was moved to Liberty Hall where Professor Butler presented an honorary doctorate degree lecture entitled "Nonviolence, Depression, and a Criticism of Individualism" in front of a student-packed audience. "A new form of nationalism is being reborn" she stated, "but if we can recognize our mutual dependence, we can then understand our obligations to one another from a global perspective" she emphasized in an appeal to the importance of developing consciousness as a global citizen,

Professor Butler is the 32nd person to be awarded an honorary doctorate by the university following United Nations Secretary General António Guterres (at the time, 2014, UN High Commissioner for Refugees), and the first person to receive the award in four years.


Judith Butler
Professor Butler received her Doctor of Philosophy degree from Yale University in 1984. After teaching at Johns Hopkins and other distinguished universities, she joined the University of California, Berkeley in 1998 where she currently teaches Rhetoric and Comparative Literature. In 2009, she was awarded the 2008 Mellon Award (Andrew W. Mellon Foundation) for her contribution to scholarship in the humanities. She is best known as the author of a number of books, including, Gender Trouble: Feminism and the Subversion of Identity (1990).