Rugby Football Club wins the University Rugby Football Championship for the first time in 22 years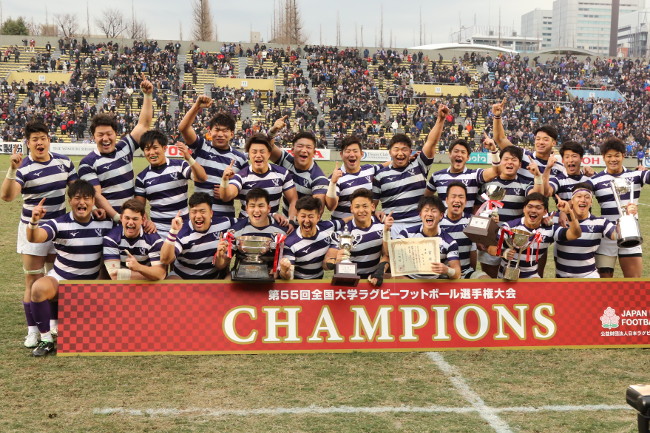 The Meiji University Athletic Association's Rugby Football Club defeated Tenri University 22-17 in the finals of the 55th All-Japan University Rugby Football Championship held on January 12 at the Prince Chichibu Memorial Rugby Ground. Playing in the front of a cheering crowd of over 20 thousand, it was the 13th time, and the first in 22 years, that Meiji won the University Championship since last winning it in 1997.
This season, under the supervision of Team Director Kiyonori Tanaka, who was appointed last April, the Rugby Football Club has played actively, led by Kenta Fukuda (a fourth-year student in the School of Law), the Team Captain. The team won the Championship at the Kanto University Regional Spring Meet held from April to June, winning all five of its matches. After having finished third with a record of five wins and two losses in the divisional competition among Kanto universities held from September to December (it entered the University Championship placed fourth), the team showed its potential to win close matches by defeating Tokai University 18-15 in the quarterfinals, and Waseda University 31-27 in the semifinals at the University Championship. In addition, in the finals on the day, the team narrowly defeated Tenri University by winning the match by five points to clench the Championship.