[Baseball Club] Captain Morishita and pitcher Ise selected at Professional Baseball Draft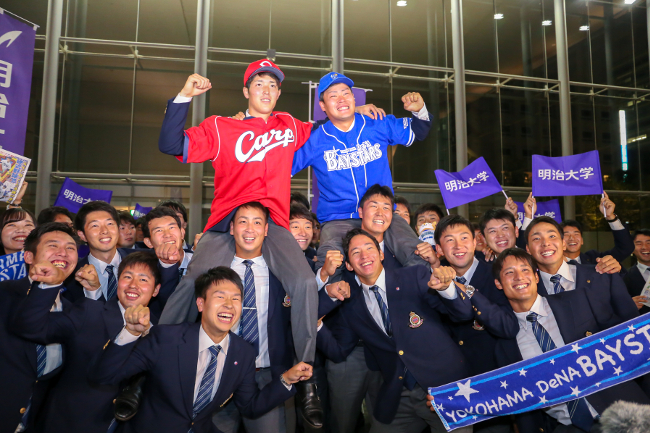 At the Professional Baseball Draft held on October 17 in Tokyo, Meiji University Baseball Club captain and pitcher Masato Morishita (senior in the School of Political Science and Economics) was selected by the Hiroshima Toyo Carp in the first round, and pitcher Hiromu Ise (senior in the School of Business Administration) was selected by the YOKOHAMA DeNA BAYSTARS in the third round.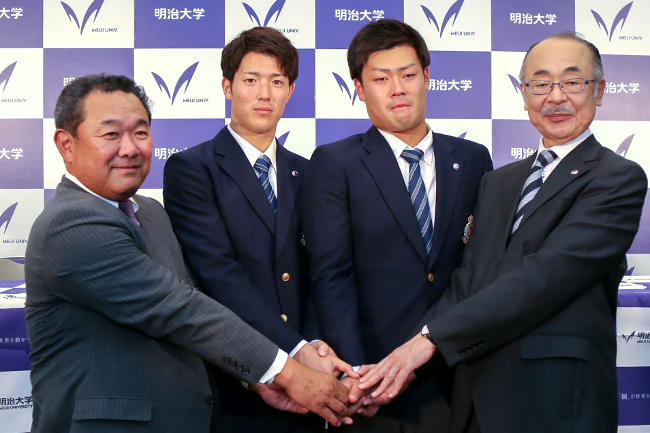 From left: Manager Yoshinami, Masato Morishita, Hiromu Ise, Professor Inoue
At the subsequent press conference, both athletes discussed their joy at being selected and their hopes for their professional baseball careers. Captain Morishita commented that he is happy that he has good news for the many people who have supported him, including his parents, who made it possible for him to go to university, and Manager Yoshinami, who provided instruction not only in baseball but also other fields. He hopes to contribute as a starting pitcher and become an athlete that provides courage to all fans. Pitcher Ise stated that throughout his four years playing with the Meiji University Baseball Club, he learned how to work with the team to capture the championship and hopes to use that sense in the professional league and contribute to the team even in his first year.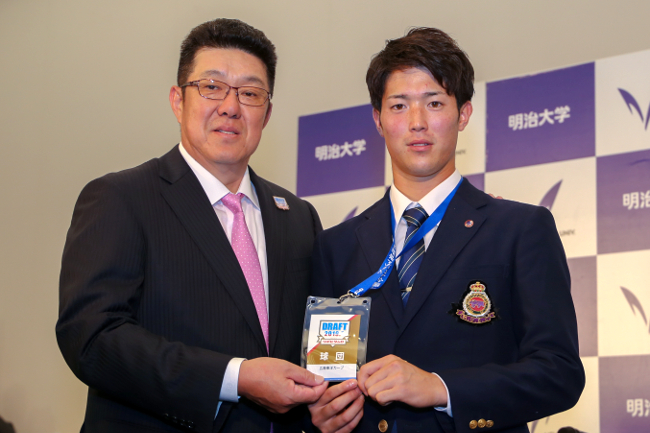 Left: Manager of the Hiroshima Toyo Carp, Shinji Sasaoka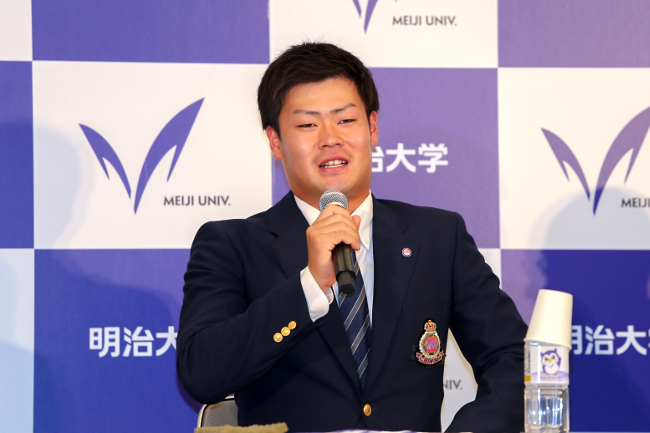 Hiromu Ise at the press conference

After the press conference, the new manager of the Hiroshima Toyo Carp, Shinji Sasaoka, visited Meiji University where he had his first meeting with Captain Morishita. During the meeting, both were all smiles.

Both athletes were finally met by the members of the Baseball Club, who threw their teammates into the air in celebration. Both seemed to savor their happiness with the strong support of all their friends.