Courtesy visit made by the Vice-Chancellor of the University of Ghana and delegation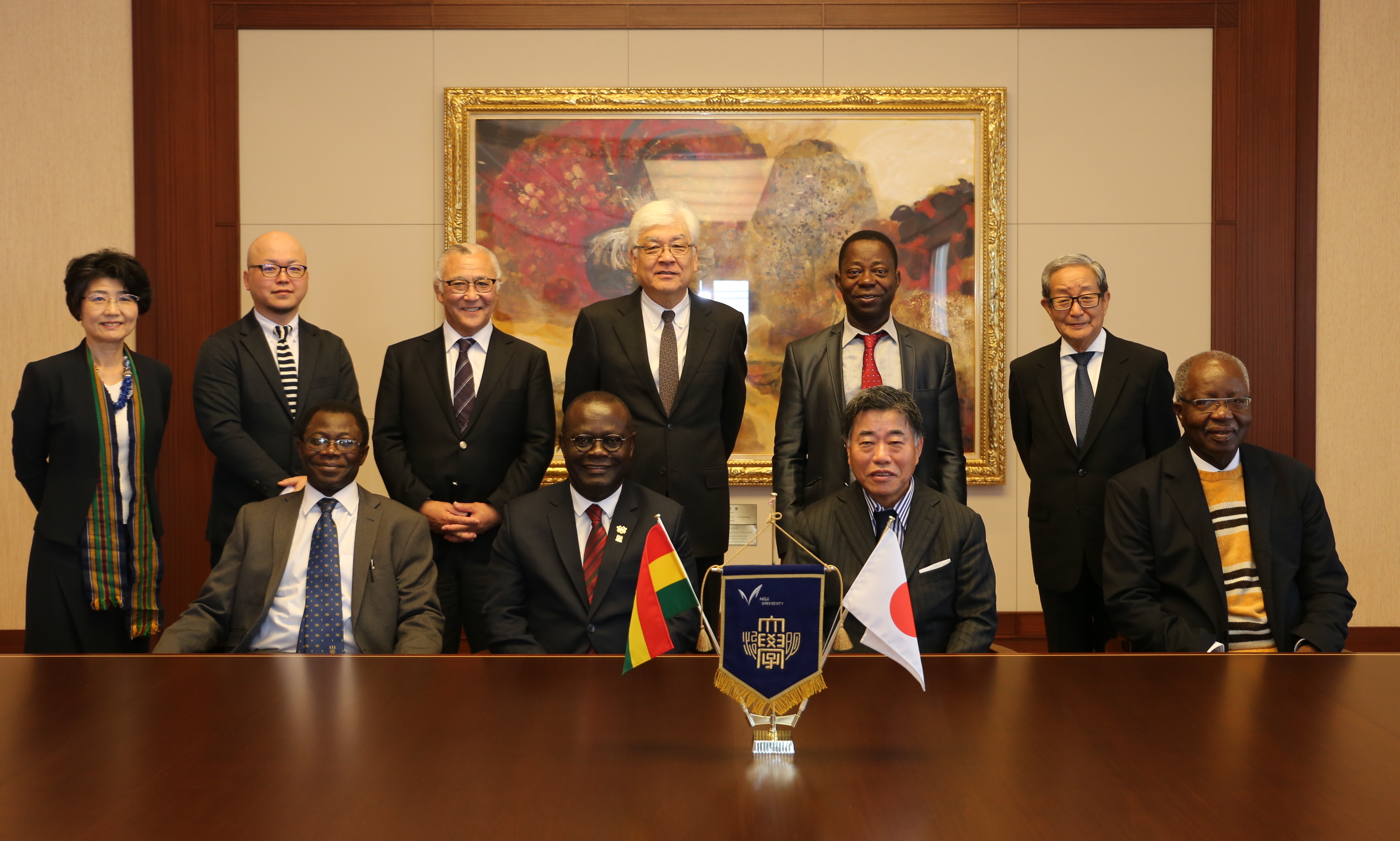 We took the first step toward long-term friendly relations (center left: Professor Owusu, Vice-Chancellor)
On December 12, Professor Ebenezer Oduro Owusu, Vice-Chancellor of the University of Ghana and delegation, paid a visit to the Surugadai Campus of Meiji University and exchanged views with President Keiichiro Tsuchiya, Vice President (International Affairs) Kosaku Dairokuno, School of Agriculture, Dean, Toshio Harigaya, and other executives.
The University of Ghana, established in 1948, is located in Accra, the capital of Ghana, and is the country's oldest and largest national public university. With its College of Health Sciences, College of Basic and Applied Sciences, College of Humanities, and College of Education, the university serves as one of the leading centers of higher education and research in Ghana. In April 2019, Meiji University and the University of Ghana concluded an inter-university cooperation agreement and a memorandum on the implementation of student exchange programs. This courtesy visit was an effort to further areas of cooperation, as well as enhance opportunities for exchange programs.
In our meeting, President Tsuchiya shared Meiji University's initiatives regarding African nations as follows: This summer, Meiji University hosted a lecture on Africa with Professor Joseph Stiglitz of Colombia University as their guest speaker. The university also boasts one of the largest library collections on Africa in Japan and is currently examining the establishment of the institute of African studies. It is a pleasure to begin exchanges with the University of Ghana with such perfect timing.
In response, Professor Owusu, Vice-Chancellor, remarked that, in collaboration with Meiji University, the University of Ghana hopes to advance its research to address the issues facing African nations, such as population growth and food insecurity. He also shared their vision for the future by commenting that there are many students who aspire to come to Japan in order to pursue opportunities for advanced knowledge and research, and because of this, they would like to realize exchange programs for students and researchers. Both universities exchanged concrete and wide-ranging views regarding the current situation of academia-industry cooperation, exchange programs and scholarships, international dormitories, etc., and throughout discussions, the University of Ghana showed their high degree of interest in pursuing exchanges with Meiji University.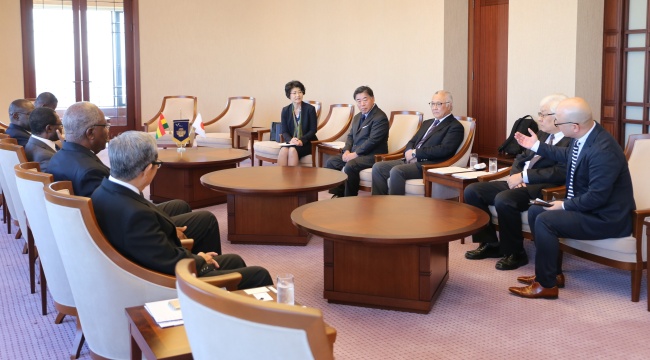 Active discussion on the possibility of student exchanges conducted