Ms. Kim Eunbyul, a student from South Korea, won the President's Cup Japanese Speech Contest for International Students under the theme, "Study Abroad: My Journal of Studying in Japan - What Made You Come to MEIJI? - "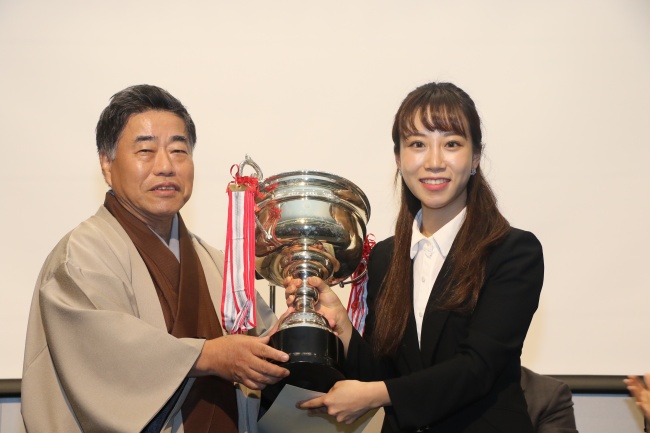 Ms. Kim who won the President's Cup (right) and Keiichiro Tsuchiya , President
On December 7, Meiji University Japanese Language Education Center held the 24th President's Cup Japanese Speech Contest for International Students at Global Front on the Surugadai Campus with the support of Meiji University Parent's Association Union and the cooperation of international exchange organization 'Campus Mate'.

This year there were 14 international students from 8 countries and regions such as Italy, South Korea, Thailand, Taiwan, China, Brazil, Hong Kong and Malaysia to compete.
With the theme "My Journal of Studying in Japan - What Made You Come to MEIJI? - ", international students delivered ingenious speeches letting us know the reasons behind their decisions to study in Japan and their encounters with Meiji University.

The President's Cup, the award given for the best speech, was presented to Ms. Kim Eunbyul, a student from South Korea, for her speech titled, "Toward a Sustainable Society Together with Meiji University." After her graduation from high school, Ms. Kim was working for a Japanese trading company and it was when she became interested in the Sustainable Development Goals (SDGs) and decided to study them in more depth at Meiji University. She delivered her speech covering these episodes in fluent Japanese.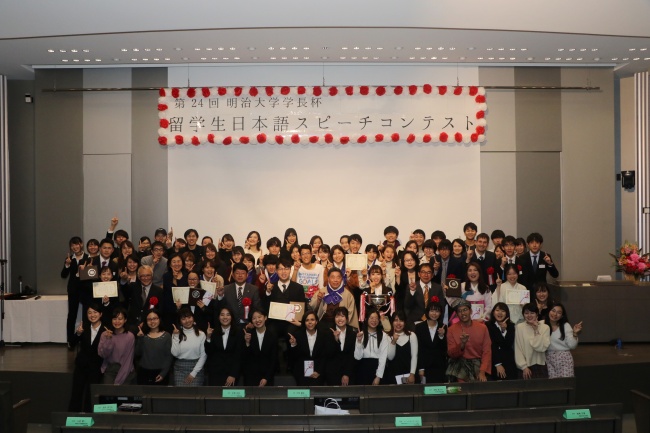 With the Japanese-language advisors and Campus Mate students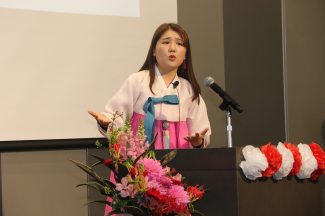 Mr. Son Hyunwoo Ms. Ko Hyeon
The contest was held since 1996 for the purpose of improving the Japanese language skill of international students and promoting their interchange with Japanese students.
In preparation for the contest, each entrant teamed up with two or three Meiji University students as Japanese language advisors and elaborated their speeches for about two months.