[Baseball Club] Yokohama DeNA BayStars to name co-captain Taisei Irie as their first-round pick in Professional Baseball Draft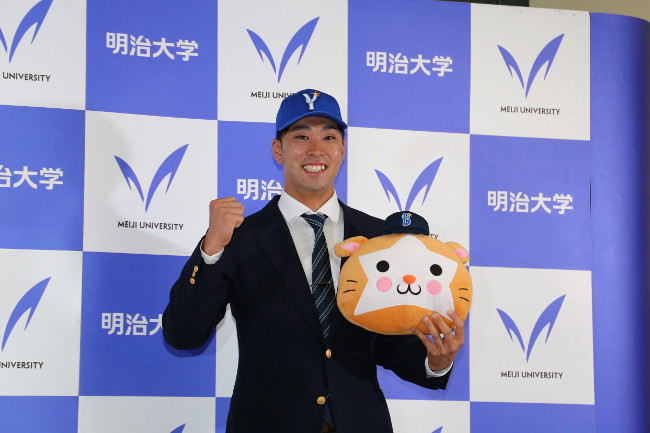 A Professional Baseball Draft was held in Tokyo on October 26, when Taisei Irie (senior in the School of Political Science and Economics), the co-captain of Meiji University Baseball Club, was named as the first-round pick by Yokohama DeNA BayStars.
At a press conference, Irie explained: "I had been nervous before the draft commenced, but I was relieved to be named. I didn't expect I would be chosen as the number one pick." He also mentioned the restrictions in training and games due to the COVID 19 crisis and how he had trained and spent his time during this unusual period: "The condition was the same for all other players. I concentrated on achieving results under the limited conditions by muscle training, weight increase, and studying form by watching videos of professional players."
"I'm aiming to become a first-string member from the start of the season. I want to keep up with the rotation and have a lot of support from fans. I also would like to thank my parents and people who have been supporting my baseball life." Irie spoke of his aspiration after joining the team and expressed his gratitude.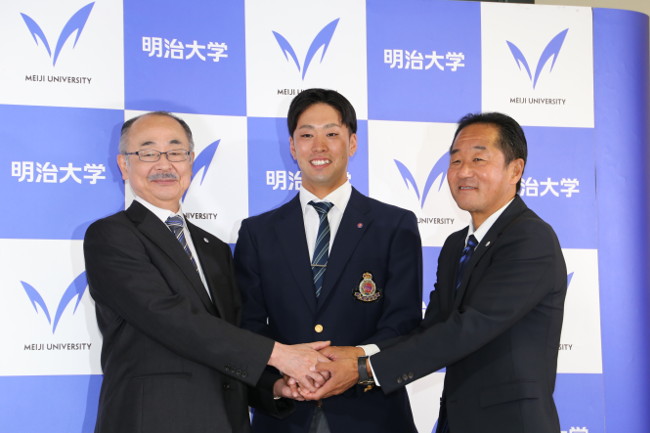 From left: Professor Inoue, Taisei Irie, Manager Tanaka