Boardsailing Club wins its third Intercollegiate Championship in a row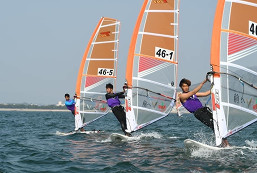 (From left)
Kensei Ikeda(4th year, School of Law)
Kota Suzuki(4th year, School of Global Japanese Studies)
Kei Miura(1st year, School of Law)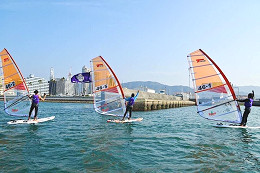 The winning run with flags in their sails
after winning the team division


The Boardsailing Club won the 2020 Japan Universities Boardsailing Championship (Intercollegiate Championship) held at the Wakayama Sailing Center from March 14 to 15. This is the first time the club has won three championships in a row.
Seven races in total were held during this championship and in the team division the total points of the three sailors in each race were aggregated. Meiji University were first after the first race and in the subsequent races the other sailors also finished in the top places. The Meiji team won with a 93 point advantage over the second place Kanto Gakuin University.
The captain, Kensei Ikeda (4th year, School of Law), made the following comment.
"I am relieved that we were able to achieve our goal of a three-peat. I have seen my amazing seniors win when it counts, so I felt a great deal of pressure to win when it was my time. I think that the reason why we won is because we overcame the obstacles created by the COVID-19 pandemic and the club had a sense of cohesiveness born from every club member having the desire to get better. Every member of the club trained hard five days a week whether there was any wind or not. There were times training was so hard I wanted to give up, but serving as captain for the past year was an irreplaceable experience. Lastly, I am very grateful for everyone at Meiji University who supported us. Thank you very much. And I would like everyone to keep following the activities of my juniors at the Boardsailing Club."