Meiji University Football Club wins Kanto University Football League (second year in a row, 6th time ever)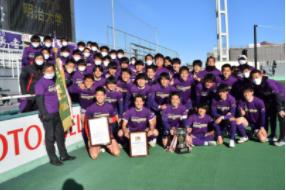 Photo: Meiji University Football Club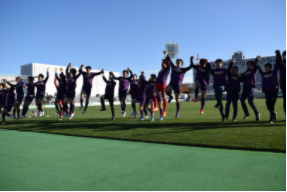 Photo: Meiji University Football Club
On December 19, Meiji University Football Club sealed the Kanto University Football League (1st division) championship. It was the second year running that they won the league and it's the first time the club has won consecutive championships since it was formed.
In the final league match the following day against Toin University of Yokohama, with the score at 1-3, co-captain Tsuyoshi Ogashiwa, who is a fourth year in the School of Commerce and has been drafted by Hokkaido Consadole Sapporo, showed the Meiji tenacity and scored two goals to level the scores 3-3.
Usually, the season begins in April, but due to the coronavirus pandemic, this season saw the start of the season pushed to July and some matches were unexpectedly postponed. However, the football club put all of that of mind to play all 22 matches.
Moving forward, the football club aims to win the All Japan Cup (#atarimaeni CUP) in January 2021, which is being in place of the All Japan University Championship (intercollegiate) that was canceled.