[Baseball Club] Kazuya Maruyama, captain of the Baseball Club, selected in the second round by Tokyo Yakult Swallows at the Nippon Professional Baseball Draft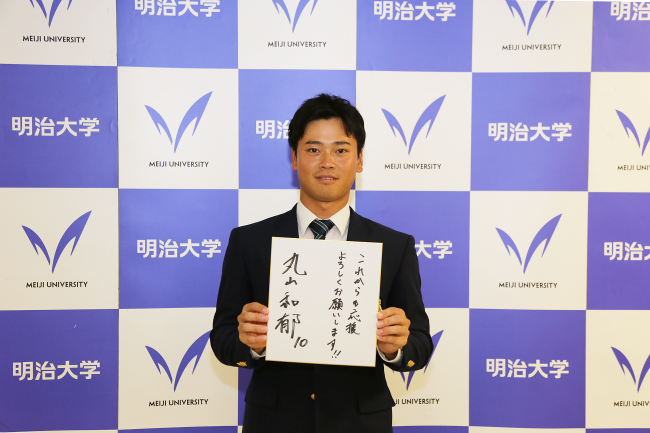 Kazuya Maruyama selected by Tokyo Yakult Swallows in the draft

At the Nippon Professional Baseball Draft held on October 11, the captain of Meiji University Baseball Club, Kazuya Maruyama (4th year in the School of Commerce), was selected in the second round by Tokyo Yakult Swallows.
Maruyama held a press conference with General Manager Yuichiro Yamamoto (professor in the School of Commerce) and Manager Takehiro Tanaka at the Baseball Club's Student-Athlete's Residence in Fuchu City, Tokyo.
Maruyama expressed his feelings by saying, "I was so nervous all day about today's draft but I'm so happy because I was the second draft pick. I was so relieved when I was chosen."
In terms of future goals, he said, "I've got league games before I turn pro, so I want to win those and get my body to peak condition before thinking about being a pro," and "Only the best players are in the pros. I am worried, and I think I have to improve my game."
His selection in the draft marks the 12th year in a row that a player from Meiji University has been picked in the draft.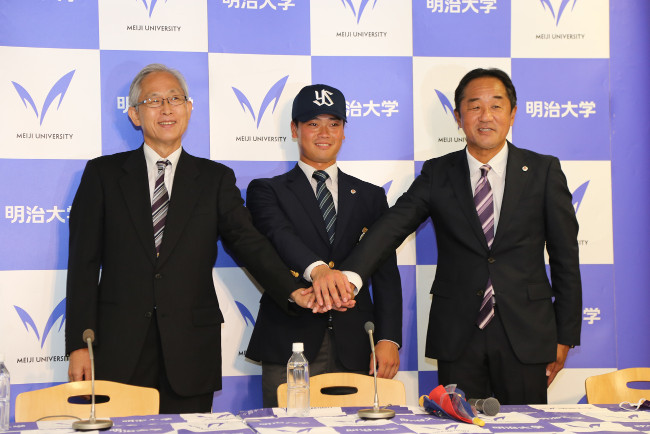 (From left) General Manager Yamamoto, Captain Maruyama, Manager Tanaka