[Football Club] Informal agreement to sign with J.League teams reached by four members of Meiji University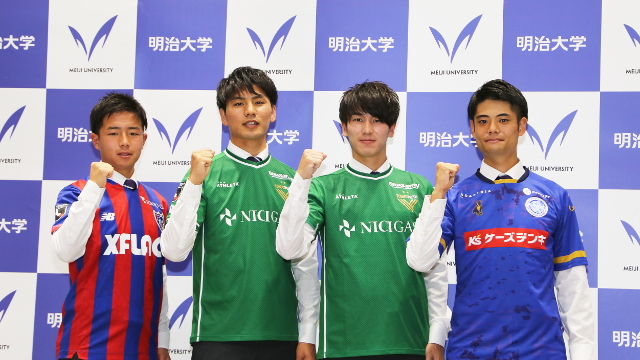 On December 1, the Meiji University Football Club held a press conference at the Global Front on the Surugadai Campus for four players who have reached informal agreements to join J.League clubs.
At the press conference, Masaru Inoue, Vice General Manager of the Football Club (professor in the School of Arts and Letters), gave a speech, followed by Head Coach Daisuke Kurita's introduction of each player's style of play and personality. Kurita added, "They have been involved with many coaches in elementary, junior high and high schools, which led them to where they are today. Also, they cannot be professional players only by themselves in the future. I hope that they will never forget their gratitude and become top athletes who can give courage and energy to their supporters in the region and Japan by their play."
Next, each of the four players expressed their gratitude to the members and staff of the club and their joy at the offer, and pledged their success after joining the club.
The press conference ended with the screening of a video message from each of the clubs where they were offered to join and a photo session.
The following is a list of players who have been offered to join each J.League club and their comments.
Shuto Okaniwa, vice-captain (4th year in the School of Political Science and Economics), F.C.TOKYO
For four years, I've been asking myself every day how I could catch up with each year's great senior club members, and how I could overtake them, and I think this has led to the result that I got this offer. After joining the professional league, it will be tough to compete with other players to become a regular player, but I want to prepare myself fully and make the most of my athleticism to excel both offensively and defensively.
Tetsuyuki Inami, vice-captain (4th year in the School of Arts and Letters), TOKYO VERDY
The dormitory life with other club members, I experienced at the university for the first time in my life, was both fun and challenging, but learning about each other and getting in touch with the values of others led to my personal growth. After joining the professional league, I want to play hard enough to move people's hearts.
Ren Kato (4th year in the School of Business Administration), TOKYO VERDY
University life was difficult for me because I had a lot of reports for assignments, but I was able to face myself seriously in my university life, so now I think it was good. After becoming a professional, I want to contribute to the team by making use of my characteristics such as my speed and strength in interpersonal situations. I will do my best to challenge myself hungrily every day without forgetting the feeling of gratitude for the support I have received from many people.
Fumiya Sugiura (4th year in the School of Political Science and Economics), FC MITO HOLLYHOCK
Meiji's senior members have built up a strong team over the past 100 years of history, so I have been working for four years to take over and develop it further. My strength in my play is that I am creative and I can sense the demands of the head coach and incorporate them in my own way. In addition, I will do my best from my first year so that HollyHock can have an impressive result of J1 promotion and J2 championship, making use of my athleticism and ball-playing skills that I've learned in Meiji.