[Baseball Club] Captain Kaito Muramatsu, selected in the second round by Chunichi Dragons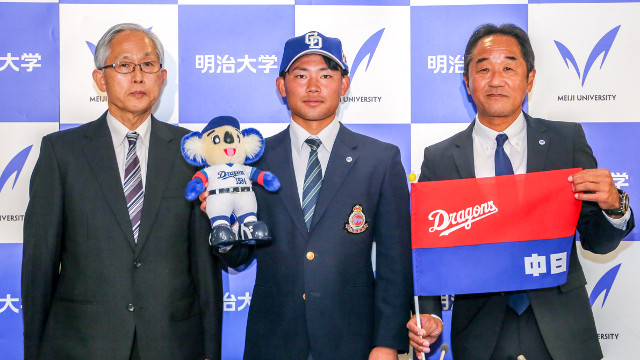 (From left) General Manager Yamamoto, Captain Maruyama, Manager Tanaka



Immediately after the nomination, Muramatsu looked happy after being slapped on the shoulder by Manager Tanaka.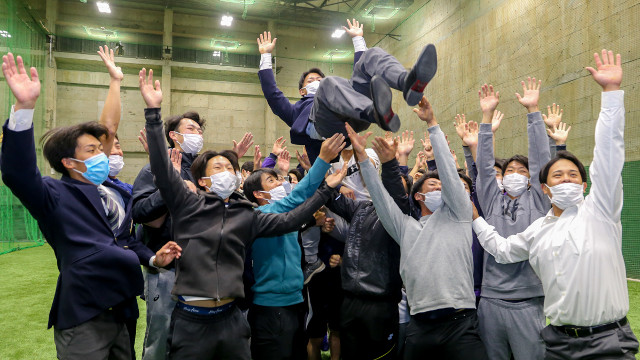 The baseball club members tossed him into the air in celebration of the nomination.
At the Nippon Professional Baseball Draft held on October 20, the captain of Meiji University Baseball Club, Kaito Muramatsu (4th year in the School of Information and Communication), was selected in the second round by Chunichi Dragons.
Muramatsu watched the live broadcast of the draft conference with General Manager Yuichiro Yamamoto (professor in the School of Commerce) and Manager Takehiro Tanaka at the Baseball Club's Student-Athlete's Residence in Fuchu City, Tokyo. At the moment of his nomination, Muramatsu looked nervous, but when Manager Tanaka slapped him on the shoulder, he finally smiled with relief.
At a press conference held by the three of them, captain Muramatsu said, "I'm honestly happy that I was nominated to become a professional baseball player, which was my goal since I was little." He added, "I want to show off the strength in my legs and technique of capturing the ball with the core of the bat on the professional stage. I have finally reached the starting line, so I want to make sure to deliver good results."
His selection in the draft marks the longest record of the 13th year in a row that a player from Meiji has been picked in the draft.