[Skating Club] Rion Sumiyoshi placed 3rd in the third round of the Grand Prix of Figure Skating Series, Grand Prix de France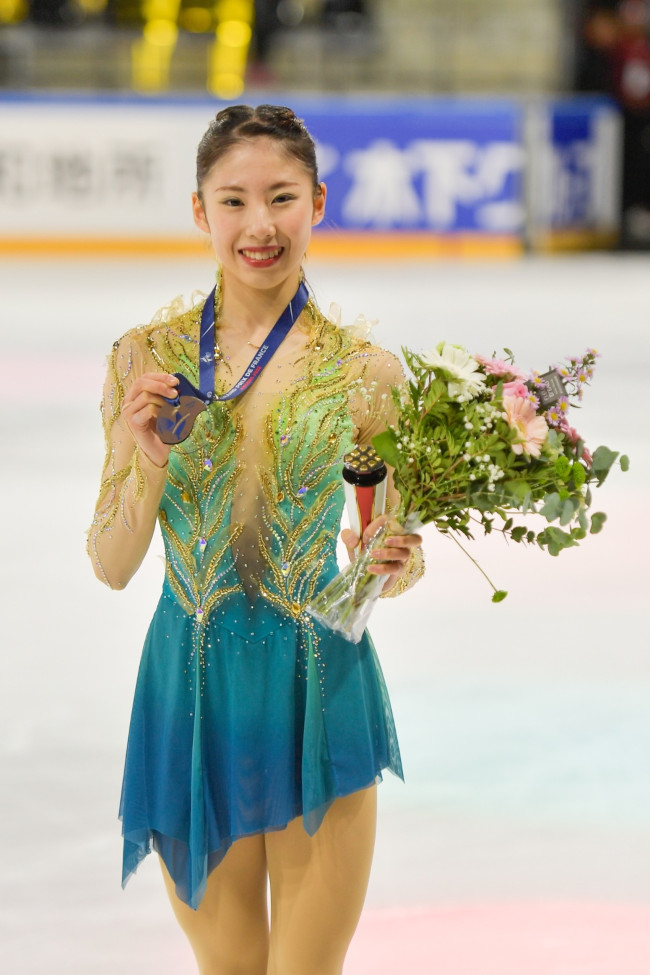 Sumiyoshi won third place in her first Grand Prix Series appearance
(Photo by Raniero Corbelletti/AFLO)
Rion Sumiyoshi (1st year in the School of Commerce) of the skating club placed third overall in the women's competition at the third round of the International Skating Union (ISU) Grand Prix of Figure Skating Series, Grand Prix de France held on November 4-5.
In the short program on November 4, she landed a double axel and a series of triple jumps, including a flip-toe loop, to place fifth with 64.10 points.
At the beginning of the free skating on November 5, she attempted a quadruple toe loop, the first time for a Japanese woman to do this difficult technique in an ISU-sanctioned competition. She fell, but then performed the rest of her jumps, spins, and steps at a high level, scoring 130.24 points for third place in the free skating. With a total score of 194.34 points, she set a new personal best and won the bronze medal in third place overall in her first Grand Prix Series appearance.

Comment from Rion Sumiyoshi
Thank you very much for all of your support. I competed at the Grand Prix de France and I have now safely returned to Japan.
I am very happy to have won the bronze medal. I will work even harder for the next round, so please keep supporting me!