2021 Spring/ AY2021 Graduation Ceremony Announcement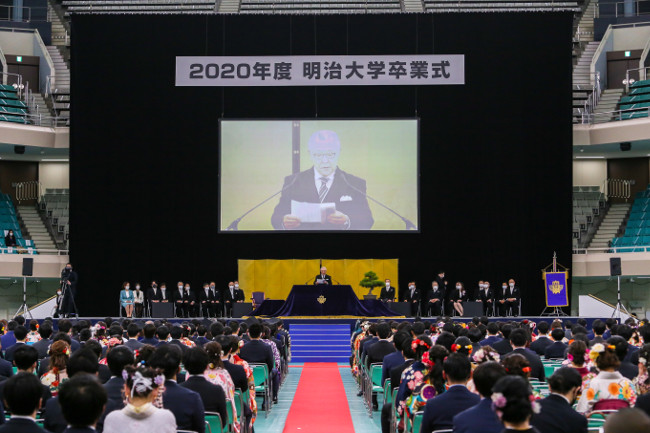 Photo: 2020 Graduation Ceremony

We are pleased to announce that the Graduation Ceremony for the academic year 2021 will be held as follows.
Because of the capacity of the ceremony venue (Nippon Budokan), the first session will be held in the morning, and the second session in the afternoon.
After your schools and graduate schools will finish their evaluations, graduation and completion decisions will be notified around the beginning of March 2022.
As we announced on January 13th, 2022, only our graduating students will be allowed to attend AY2021 Graduation Ceremony.
However, the ceremony will be livestreamed, so that parents, guardians, and so on can view it on PC or smartphone.
We will announce URL on this webpage when it gets closer the date.
1. Date
Saturday, March 26th, 2022
[First Session]
10:00 a.m. - 11:00 a.m.
School of Political Science and Economics, School of Science and Technology, School of Agriculture, School of Business Administration, School of Interdisciplinary and Mathematical Sciences, All Graduate Schools
[Second Session]
1:30 p.m. - 2:30 p.m.
School of Law, School of Commerce, School of Arts and Letters, School of Information and Communication, School of Global Japanese Studies, All Professional Graduate Schools

2. Venue:
Nippon Budokan (2-3 Kitanomaru-Koen, Chiyoda-ku, Tokyo)

View "Nippon Budokan" on a Google Maps

The ceremony will be streamed live on the Internet.
Parents and other concerned parties, as well as graduates who are too far away to attend the ceremony, can watch the ceremony on your PC or smart phone from the following URL.
A video of the day's ceremony will be available on the Meiji University website after the ceremony.

[Access]

Take the exit from "Kudanshita" Station on the Tokyo Metro Tozai Line, Hanzomon Line, or Toei Shinjuku Line.
*Please do not come by car.
3. Special Note
We will take measures to prevent the transmission of new coronavirus infection in accordance with measures to prevent the transmission of new coronavirus infection as stipulated by the government and the Tokyo Metropolitan Government. Therefore, in order to prevent infection, only graduating students will be allowed to participate in the ceremony. For the safety of the ceremony, we ask for your understanding in this matter.
Preventive measures against the spread of new coronavirus infection
(1) Please take your temperature at home and make sure it is normal (generally less than 37.5°C) before coming to the school.
(2) Please make sure that you have the Contact Confirmation Application (COCOA) for the new coronavirus installed and available on your smartphone before coming to the event.
(3) Please wear a mask at all times, refrain from unnecessary conversations, and keep a safe distance from people around you to avoid crowding.
(4) A temperature check will be conducted at the entrance of the Nippon Budokan. If a fever (generally 37.5°C or higher) is detected, you will not be allowed to enter the venue.
(5) When entering the Nippon Budokan, please disinfect your hands thoroughly using the disinfectant solution provided.
(6) After using the restrooms, please wash your hands thoroughly with soap and water. Also, please close the lid before flushing the toilet after using the western style toilet seat.
(7) Please refrain from coming to the venue if you fall under any of the following conditions.
  (1) Persons suffering from various symptoms of a cold (fever, headache, cough, sore throat, runny nose, stuffy nose, joint pain, muscle pain, etc.)
  (2) Those with severe fatigue, shortness of breath (dyspnea), or abnormal sense of smell or taste
  (3) Those with symptoms of nausea, vomiting, diarrhea, etc.
  (4) Those who are otherwise in poor physical condition
  (5) Those who have been in close contact with a person positive for novel coronavirus infection within the past two weeks.
  (6) Those who have visited a country or region where the government has imposed entry restrictions or required a post-entry observation period within the past two weeks, or those who have had intensive contact with people living in such a country or region.
Note to Participants
(1) Only graduates and alumni are allowed to enter the Nippon Budokan. Please present your student ID card when entering the Nippon Budokan. If you lose your student ID card, we will confirm your graduation decision letter.
(2) The area around the venue will be very crowded, so please enter early.
(3) Please use public transportation to get to the venue. Please note that no vehicles will be allowed to enter the venue.
(4) Please refrain from waiting for others at the train station or near Yasukuni Dori Avenue, as it will obstruct traffic.
(5) After the ceremony, please follow the instructions of the officials and leave the venue.
(6) Smoking is prohibited in the Nippon Budokan and Kitanomaru Park. Please be sure to take all trash with you.
(7) After the ceremony, please refrain from eating, drinking, and socializing.