Boardsailing Club wins its fourth Intercollegiate Championship in a row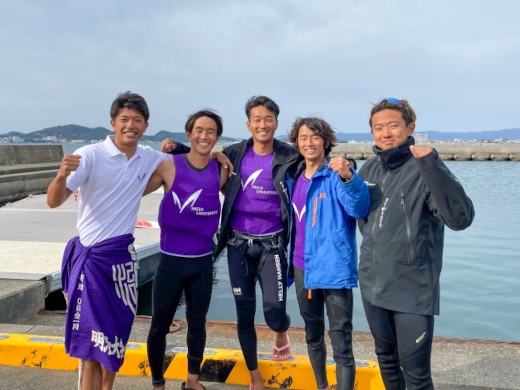 The Boardsailing Club won the 2021 Japan Universities Boardsailing Championship (Intercollegiate Championship) held at the Wakayama Sailing Center from March 12 to 13. This is the first time the club has won four championships in a row.

Five races in total were held during this championship and in the team division the total points of the three sailors in each race were aggregated. Meiji University was behind on the first day. However, on the second day of the competition, the sailors turned the tables with stable sailing. The Meiji team won with a 19 point advantage over the second place Kanto Gakuin University.

Comment from captain Kei Miura
We have been practicing with a strong awareness of this team division in order not to stop winning consecutive team divisions, which our seniors handed down to us. In the race, we were almost overwhelmed by the pressure of winning four championships in a row, but we were able to do our own race and win without any problems. I'm full of peace of mind and fulfillment now. During the past year, I was in a position to lead the team as captain, and I sometimes had disagreements and differences with club members. However we were able to win the championship because I think there were many precious club members who were united in one goal and believed in and followed me. Lastly, I would like to express my deep gratitude to the club's seniors and Meiji University staff, who came to our practice and supported us even on hot or cold days. And I would like everyone to keep following the activities and growth of my juniors at the Boardsailing Club.