[Baseball Club] Wins 43rd championship in the Tokyo Big 6 Baseball League 2023 Spring in three consecutive seasons
Players gather on the mound to celebrate immediately after the game set
The Baseball Club won its 43rd championship in the Tokyo Big 6 Baseball League 2023 Spring in three consecutive seasons with a 6-3 victory in the second round against Waseda University. This is the first time in 85 years that Meiji University has won three consecutive league championships since the spring and fall leagues of 1937 and spring league of 1938.
In the game against Waseda University on Sunday, May 14, where a win would decide the league championship, the Baseball Club opened the scoring with three runs, including a timely double in the bottom of the first inning by captain UEDA Kyuto (4th year, School of Global Japanese Studies), who is number four. With a 4-0 lead in the top of the 6th inning, they were hit by a 3-run homer to go up by one, but added two more runs in the bottom of the 8th inning on a 2-run homer by KOJIMA Taiga (2nd year, School of Political Science and Economics). The pitchers allowed no runs other than one homer and shut down the Waseda lineup with three hits allowed, resulting in a 6-3 game set. The winning points and winning percentage secured Meiji University's championship victory, although they still have to play their opponents in the following weeks.
The Baseball Club will represent the Tokyo Big 6 Baseball League at the 72nd Japan National Collegiate Baseball Championship, which starts on June 5.
≪Japanese version≫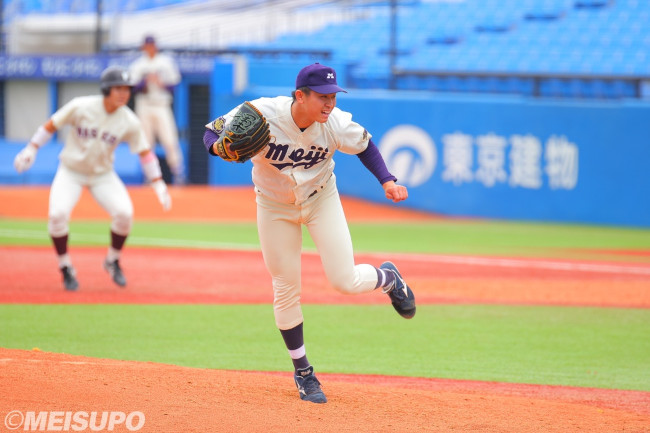 Pitcher ISHIHARA Yuki pitched well in the first inning (4th year, School of Commerce)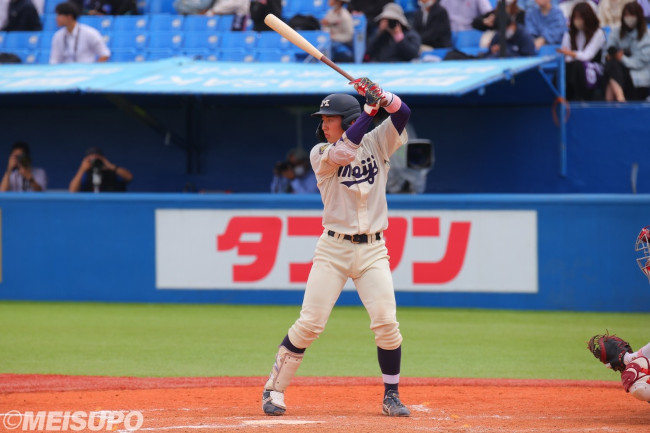 KOJIMA Taiga, who hit a 2-run homer for a valuable addition (2nd year, School of Political Science and Economics)

(All photos courtesy of the Meidai sports)