The Chairman of the Board of Trustees shares his thoughts at the start of the year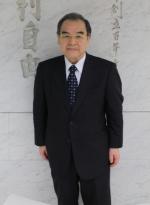 Striving to be a university we can be proud of

As we enter into the New Year I would like to send my greetings to all of you.
Nine months have already passed since I was appointed Chairman of the Board of Trustees. During this time, I have met with many alumni, parents, and government and private sector stakeholders at various events, such as the opening of the Izumi Library and Kurokawa Farm, and the 100th anniversary ceremony for the Meiji University High School and Junior High School. Through these meetings I truly felt the great expectations people had for Meiji University.
This will be a milestone year for Meiji University with the opening of the Nakano Campus and the School of Interdisciplinary Mathematical Sciences. I hope that the Nakano Campus, which will function as a hub for internationalization, frontier research, and community partnerships, will be a base for education and research that will attract attention from the world.
With the waves of falling birthrate, computerization, and globalization sweeping over us today, the times are changing greatly. The quality of education and research at universities will be put to the test more than ever before, and it has become an era in which we will be compared not only with other Japanese universities, but with educational institutions worldwide. We will also be expected to play a role in generating innovation and becoming a community base – the very functions of universities are changing. In university management as well, I strongly sense that we are entering an age in which new business development and new challenges not bound by conventional values will be necessary.
The university has overcome numerous hardships, such as the Great Kanto Earthquake, defeat in the war, campus disputes, and so on, and endured the changes of the times and of external circumstances up to this day. Going forward, we will continue to earnestly strive for fiscal health, system reforms including the reforming of endowment acts, development of our information infrastructure, among others, and strengthen university governance in order to conduct enduring educational and research activities. Moreover, we must establish an organization flexible enough to face the changing times and grow into a university that can prevail against competition with other universities.
While the role of universities changes with the times, their primary mission will remain making a social contribution through education and research; in other words, nurturing capable members of society. In the Meiji University Long-term Vision formulated in FY2011, we committed ourselves to making Meiji University, ten years down the road, a university that will be an international hub for fostering globally minded individuals and international exchanges and to realize education and research that nurture strong and bright individuals who will succeed on a world scale. This year, we will steadily push forward measures for the realization of the long-term vision and strive to make Meiji University a university we can be proud of.
In closing, I would like to ask for your continued support and cooperation for Meiji University and wish you all good health and happiness in the coming year.
Kensou Hidaka
Chairman, Board of Trustees, Meiji University