Conclusion of Agreement on Incorporated Alliance Partnership between Meiji University and International University of Japan School Corporations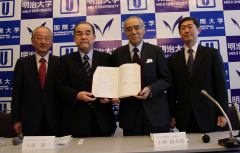 President of Meiji University and Chairman of IUJ holding the agreement after the signing ceremony. (Surugadai Campus)
On January 31, Meiji University (Chiyoda, Tokyo) and International University of Japan (IUJ) (Minami-Uonuma, Niigata) School Corporations concluded an agreement on an incorporated alliance partnership.
In the Meiji University Long-term Vision formulated in FY2011, a commitment was made to making Meiji University, ten years in the future, "a university that will be an international hub for fostering internationally-minded individuals and international exchanges, and realize education and research that nurture strong and bright individuals who will succeed on a global scale." As part of efforts to realize this goal, particular emphasis is being placed on the development of an educational environment and implementation of university-wide reforms that will nurture people capable of succeeding on the global level.
In accordance with the incorporated alliance agreement, Meiji University will dispatch six persons to serve on the Board of Trustees of IUJ, representing over half the total membership of 11 trustees, and will also dispatch a person to serve as auditor. However, the two school corporations will remain in their current form, as individual juridical bodies. The agreement will be valid for five years from April 1, 2013, and will automatically be extended unless a request is submitted by one of the parties to the agreement. It is expected that the conclusion of the partnership agreement will provide Meiji University with access to the international network of IUJ and that English language courses at Meiji will be further developed with the cooperation of IUJ faculty members. Similarly, it is expected that enrollment of Japanese students at IUJ will increase, as the agreement will lead to enhanced awareness within Japan of the university and its activities.
Meiji University and IUJ will establish a strong and cooperative relationship in school management and educational and research activities, and, by sharing each other's unique and diverse resources while mutually respecting each other's founding principles, will aim together to become "world-class global universities."
[International University of Japan]

Established in 1982 with the support of Japan's industrial, educational and local communities, IUJ's founding principle is to train professionals who can actively make contributions to the international society with a high level of interdisciplinary and specialized knowledge. IUJ is a residential campus. It has various unique characteristics among universities in Japan, including being the first university in Japan to hold all classes in English. There is also a high ratio of faculty members from overseas (approximately 50%) and 90% of the student body are from overseas (from more than 40 countries). IUJ prides itself on its network of approximately 3,200 alumni from 112 countries and regions, which has helped in building close ties with international organizations and domestic and foreign corporations. It was ranked 79th in the "MBA Ranking" of the UK's The Economist magazine, being the only Japanese university to appear on the list. Currently 327 students are enrolled (as of May 2012). IUJ is located in Minami-Uonuma City, Niigata Prefecture.
http://www.iuj.ac.jp/