FY2013 Entrance Ceremony Held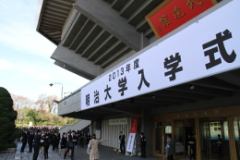 Nippon Budokan
President Kenichi Fukumiya giving his address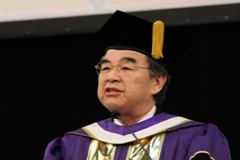 Chairman Kensou Hidaka giving his address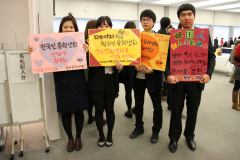 Members of the Meiji University Korean Association at welcome party
The FY2013 Meiji University undergraduate and graduate school entrance ceremony was held on April 7 in two parts, the morning session and the afternoon session, at the Nippon Budokan in Tokyo.

About 8,400 students in total enrolled in Meiji University this year, of which 228 are international students entering the undergraduate and graduate schools from more than 10 countries including China, South Korea, Malaysia and Nepal.
Prior to the entrance ceremony, a welcome party for international students was held at Academy Common in Surugadai Campus by the International Student Center and students, faculty and university staff got to know each other.

President Kenichi Fukumiya and Chairman Kensou Hidaka of the Board of Trustees delivered congratulatory addresses to the newly enrolled students at the ceremony. Additionally, representatives of the newly enrolled undergraduate students expressed their hopes for their new student lives at each of the morning and afternoon sessions .

The congratulatory video messages from alumni were played on the screen. One of them was from Nadeshiko Japan national women's football team coach, Norio Sasaki (1981 graduate of the School of Arts and Letters) who led a team to a championship of the FIFA Women's World Cup Germany 2011.

At the end of the ceremony all in attendance sang the school song accompanied by the Meiji University Symphony Orchestra, the Glee Club and Mixed Chorus and the ceremony was brought to a successful conclusion.