Meiji University Law in Japan Program 2013 Starts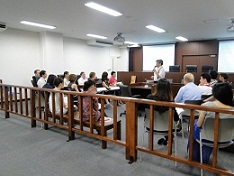 A lecture held in a moot court classroom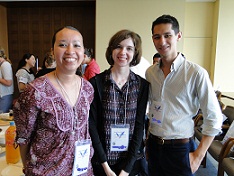 Smiling faces of participants at the welcome lunch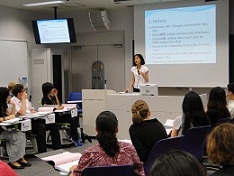 Participants listening earnestly to a lecture
Meiji University Law in Japan Program 2013 Starts

Meiji University Law in Japan Program, a summer short-term program to teach the basics of Japanese law and legal systems in English, started on July 29.
The purpose of this program is to give students an understanding of the outline of Japanese law and legal systems through lectures taught in English and field trips to law firms, courts, and other places. The main target is international students and the program has been held every year since 2009 by the School of Law.
This year, 25 students and working adults from a variety of regions including the United Kingdom, Germany, France, Italy, Austria, Poland, the United States, Canada, Mexico, Australia, New Zealand, Thailand, and China participated in the program. Five students from the School of Law also participated and the program started with a total of 30 participants.
Lectures cover current issues in individual legal fields such as Constitutional Law, Criminal Law, Criminal Process, Civil Justice, Family Law, Law of Enterprise, Competition Law, Tax Law, Labor Law, Law and Information Technologies, Intellectual Property Law, and International Law.
Moreover, by also teaching the participants about the development of the Judicial System and about Legal Professions, the curriculum is structured so that participants can gain an understanding of the characteristics of modern Japanese law and legal systems within social, cultural, and historical contexts.
In order to respond to the diverse interests and needs of students who come from different backgrounds, the lectures are interactive with question and answer sessions held as necessary. From the first day of the program, students actively asked questions and gave their opinions during the lectures.
For field trips, visits are scheduled to the Supreme Court, a district court, a summary court, the Immigration Bureau, East Japan Immigration Detention Center, the Diet (the Representatives Legislation Bureau), a corporate legal department, and a law firm. These visits are designed to make the knowledge learned in lectures more concrete and enriching.
From this year, a total of eight junior and senior year students from the School of Law are working as program assistants to support the operation of the program. They are expected to support oversea participants and assist with interaction between participants.
At the welcome lunch held on the first day on the 23rd floor of Liberty Tower, the participants, lecturers, and program assistants enjoyed interacting in a lively atmosphere.
The program will last ten days until August 9.