Academic Year 2013 September Entrance Ceremony Held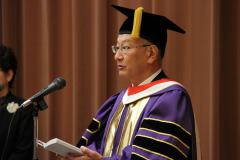 President Kenichi Fukumiya gives a speech to new students
Meiji University held the
Autumn 2013
Entrance Ceremony
o
n September 19 at the Kishimoto Tatsuo Memorial Hall on the Surugadai Campus. The
u
niversity welcomed 64 new students
(
School of Global Japanese Studies
: 11
Graduate School of Science and Technology: 2 Graduate School of Governance Studies: 34 Graduate School of Global Business: 17
).
After the Ceremony, one of the new students of Graduate School of Governance Studies, Kamil Edil UULU
from the Kyrgyz Republic
commented
with expectation
about h
is
school life which is about to start,
"
I want to learn deeply about Japanese politics and contribute to the development of my home country. I also like sports
,
so I want to interact with my future
peers of
Meidai through sports.
"