First in Asia! Producing a University Guide Book and a Promotional Website for Overseas in Collaboration with Lonely Planet"Study Tokyo: A Guide for Meiji University Students"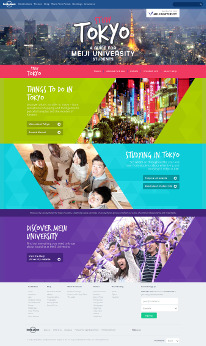 ▲Promotional Website Main Page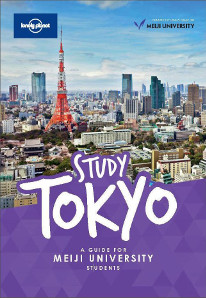 ▲Guide Book Cover Page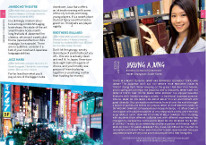 ▲Guide Book Content
Meiji University has become the first university in Asia to produce a university guide book and a promotional website in collaboration with the Lonely Planet
*1
which has the largest global share in the English travel guide book market to present the attractions of Japan, Tokyo and Meiji University as overseas study destinations for students around the world who are considering coming over to Japan to study.
In 2009, Meiji University was selected by the Ministry of Education, Culture, Sports, Science and Technology as one of the universities suited to its "Project for Establishing University Network for Internationalization (Global 30)." We now aim to accept more than 4,000 overseas students by the year 2020. While global competition among universities is intensifying, we have decided to collaborate with Lonely Planet, which is expert in conveying the attractions of "destinations" to people from various perspectives, in order to attract talented students to Japan and then to Meiji University. The content of the guide book and website is created from foreigners' perspectives to effectively explain the attractions of studying in Japan.
Meiji University continues to promote activities for creating a venue for global human resource development and exchange, in order to realize education and research designed to foster strong and outstanding "individuals" who can play an active role in the world.
Note 1:
Lonely Planet is a publishing company and there is also a travel guide book series named after the company. As of 2013, it
publishes 650 titles covering 118 countries and has the largest market share (25%) in the world in the English travel guide book market.
<Main Content>
■Touristic sites around Meiji University Surugadai Campus in Tokyo
■About Meiji University
■Sharing Experiences with Active Overseas Students
■Event Calendar
<Promotional Website>
http://www.lonelyplanet.com/campaigns/study-tokyo