Izumi Library Wins Good Design Award, etc.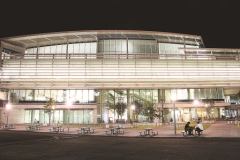 Izumi Library which has received prestigious prizes
Izumi Library which opened in 2012 has recently received the "Good Design Award 2013" (organized by Japan Institute of Design Promotion) along with other prizes.

The features of the library that impressed the judging panel of the Good Design Award are as follows: "thanks to its physical transparency, the building embodies a sense of openness which significantly differentiates it from traditional libraries; user-friendly shelving arrangements are also superb; unique pieces of furniture placed throughout the building are finely tuned in terms of sound, color, etc. to five senses of human body; all of these features are combined to create quality spaces."

In addition to the Good Design Award, the library has been granted the "SDA Award", a prize for excellent sign design (organized by Japan Sign Design Association), and the "Good Lighting Award", a prize given to facilities that has installed outstanding lighting systems (organized by the Illuminating Engineering Institute of Japan).