Meiji University International Institute for Bio-Resource Research Established Technology to Efficiently Produce a Pig Model for Medical Research, Adding Momentum to Regenerative Medicine and the Evaluation/Development of New Drugs

Figure 1 Process to create immunodeficient pig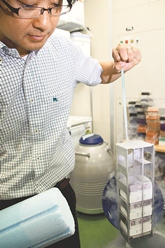 Various knockout cells are cryopreserved (Dr. Watanabe, Specially Appointed Lecturer holding a container)
A research group led by members including Professor Hiroshi Nagashima of Meiji University School of Agriculture, who is also a Director of Meiji University International Institute of Bio-Resource Research (MUIIBR), Masahito Watanabe, who is a Specially Appointed Lecturer of MUIIBR, and Professor Yutaka Hanazono of Jichi Medical University has succeeded in producing an immunodeficient pig within a short period of time (6 months) using an efficient method that combines the use of synthetic enzymes and somatic cell nuclear transfer. On October 10 (Japan time), the findings were simultaneously published on the websites of the Japan Science and Technology Agency (JST) and of PLOS ONE, a scientific journal in the United States. It is expected that this achievement will exponentially accelerate some aspects of research including safety evaluation as part of the process of new drug development, evaluation and development of stem cell therapy and cancer therapy, as well as the production of blood and organs inside the bodies of pigs.

In regenerative medicine and the evaluation of drug discovery, specific gene functions must be deleted (knocked out) in the pig models that are used for medical research to obtain information that closely reflects the physiological conditions of humans. In the past, homologous recombination, which included the transfer of foreign genes, was used to produce such pig models. However, such methods are complicated, achieve only a low percentage of recombination of the intended genes and are time consuming. There is also the risk of damaging the functions of other genes than the intended genes during the process of inserting foreign genes into the genome.

This research group has overcome these problems. By using mRNA instead of DNA to express the synthetic enzyme (zinc finger nuclease), which is a completely new type of tool for gene editing, in with combination the somatic cell nuclear transfer technology, the research group has succeeded to produce immunodeficient pigs within a short period of time.