School of Business Administration Student Volunteers Sent Abroad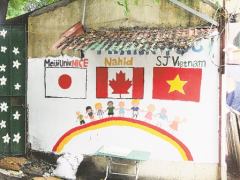 Wall renovated by students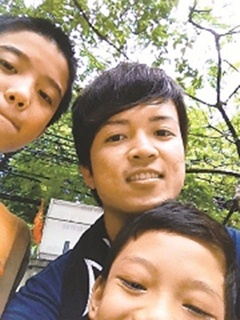 Having established rapport with local children
School of Business Administration which, setting "development of global human resources" as an educational goal, has been funneling its efforts into globalization of education implemented from August 1 through August 12 the "International Volunteer Program" in the capital of Vietnam, Hanoi. Although it was originally intended to be carried out on a trial basis, the program turned into a full-scale volunteer project with both student volunteers (seven male students and eight female students) and recipient organizations participating in the program having expressed their satisfaction.

In the implementation of the International Volunteer Program, School of Business Administration had worked in close cooperation with Never-ending International workCamps Exchange (NICE) Japan, a member of the international voluntary service network Coordinating Committee for International Voluntary Service (CCIVS), and the local co-host SJ Vietnam starting from the planning stage. NICE Japan had arranged for School of Business Administration the camp-type volunteer activity "Group Workcamp" it has conducted in collaboration with its overseas partners.


Firsthand Knowledge of Severe Environment Surrounding Residents of Floating Slums Acquired

Shouki Tamari, third-year student, School of Business Administration

I took part in the program wishing to see different cultures and social problems than those in Japan. Vietnamese cuisine and lifestyles are significantly different from their Japanese counterparts and thus completely new to me. During the interaction with the local university students, I was impressed with their strong vitality and motivation. Also at welfare facilities, we had an opportunity to get to know the local children through Origami and outdoor plays, an experience we could never have had in everyday life.

What impressed me especially of all events of the program was the visit of the floating slums to see the lives of residents there. It was a precious experience for me because it enabled me to acquire, via neither TV nor the Internet, but firsthand knowledge of how they were living in such a severe environment.

The international volunteer activities have really made me want to know more about cultures and circumstances of various countries in the world. From this point onwards, I would like to take an active look at social problems of not only Japan but also the world. I also would like to take part in a similar program sometime in the future.