"Never give up!" Lecture by Guinness Record Holder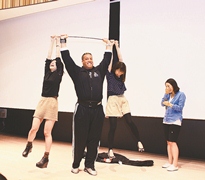 After a female student suspended from both ends of a steel bar and turned around once, he bent this bar.
 The Nakano Educational Research Support Office (global partnership) held a performance lecture by the Guinness record holder for fry pan rolling on October 3 in the fifth floor hall of the Low-Rise Wing on the Nakano Campus.
On this day, Jon Pritikin, a California native who now lectures throughout the world, gave a lecture to 180 students about how he continued to work hard in the face of adversity, earned top grades at university, and grew to be a worldwide performer. "Never give up. Each of you is a special individual," he appealed.