A promotional event for overseas firms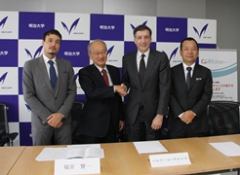 President Fukumiya shaking hands with President Delmas of French Chamber of Commerce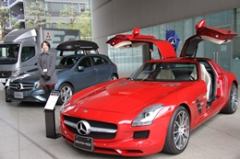 A vehicle from a participating company, on display in front of Academy Common Link: Employment/Career Support Center
French Business Campus
French Business Campus '13 was held jointly with the Chambre de Commerce et d'Industrie Française du Japon (CCIFJ) on October 29, welcoming approximately 400 people including students from not just Meiji University but other universities as well in addition to international students and others. French ambassador to Japan Christian Masset also came to observe the event.
Fifteen leading French companies took part in this French Business Campus, the second such event after the first one was held last year. They provided meaningful information to attendees through presentations and providing explanations at their booths.
【写真】
President Fukumiya (second from left) shakes hands with President Delmas of the Chambre de Commerce et d'Industrie Française du Japon
Promotional event for German firms
German Companies on Campus 2013, held jointly with the German Chamber of Commerce and Industry in Japan (AHK Japan) on November 12, welcomed approximately 180 attendees on a single day, including students from other universities in addition to Meiji University.
Seven leading German firms with facilities in Japan (approx. 30 people) took part in this event, which included company briefings, individual consultation, and panel discussions.