Meiji Festival and Ikuta Meiji Festival held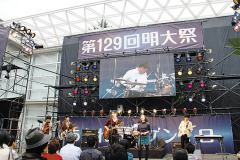 A large audience gathered in front of the stage
129th Meiji Festival held
The Meiji Festival held November 1-3 at Izumi Campus welcomed approximately 48,000 attendees who enjoyed the highly enthusiastic programs planned by students.
More than 250 student groups, including clubs and seminars, took part in activities including operating refreshment booths and performing on stage.
13th Ikuta Meiji Festival held
The 13th Ikuta Meiji Festival was held
November 22-24. In activities befitting Ikuta's status as a science campus, attendees listened eagerly to presentations and enjoyed the performances. The festival was crowded with a total of 25,000 attendees.