A Meiji University student takes the platform in the government study abroad promotion campaign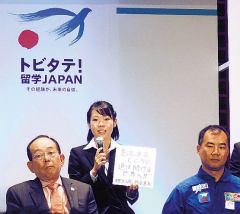 She discussed the splendor of study abroad with the astronaut, Mr. Soichi Noguchi (on the right ).
 The Study Abroad Campaign kick-off event, sponsored by the Ministry of Education, Culture, Sports, Science and Technology (MEXT), was held on November 4 at the international terminal at Haneda Airport. Along with Minister Hirofumi Shimomura of MEXT and Mr. Soichi Noguchi, an astronaut, Ms. Emi Hashimoto, a Meiji University Political Science and Economics Department senior who experienced study abroad took the platform to appeal to students about the attraction and the results of study abroad.