Visiting lecture on Japan's "manga" and "anime" culture at Peking University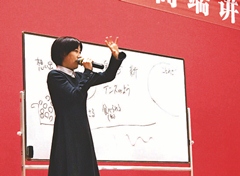 Ms. Kanno speaking at the lecture
【School of Global Japanese Studies】

On December 8, 2013, the School of Global Japanese Studies held a lecture on the latest trends in Japan's "manga" and "anime" culture at Peking University, the highest educational institution in China, as part of its running series of visiting lectures. The lecture drew a crowd of over 300, consisting of not only Peking University students and faculty members but also students from other universities and even members of embassy staff. The venue was wrapped in an enthusiastic atmosphere.
The visiting lectures are hosted by the School and the Department of Japanese Language and Culture in the Peking University School of Foreign Languages, and have been held every year since 2010.
This lecture, the fifth installment in the series, was delivered by Yoko Kanno, a composer and music producer who has handled music in a wide range of genres including "anime," film, and commercials, and is highly popular in China, too. Also in attendance at the lecture were such distinguished guests as Dr. Kazuto Iida, Meiji University Executive Trustee; and Dr. Wu Zhipan, Executive Vice President of Peking University; and the minister of the Japanese embassy in China.