[M's Opinion] No. 19 - A Proposal on the Hosting of the 2020 Tokyo Olympics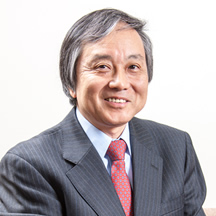 The Hosting of the Tokyo Olympics Will Act as a Detonator for a Recovery in the Strength of Japan as a Nation
Professor, Dean of the Professional Graduate Schools, Dean of the Graduate School of Governance Studies, Meiji University
Hiroo ICHIKAWA
Tokyo has been chosen to host the 2020 Olympics. This feels like the first positive news that Japan has had in a long time. Like the previous Tokyo Olympics in 1964, I believe that the 2020 Tokyo Olympics can be seen as an epoch-making event, not only for Tokyo but for the whole of Japan. What will the Tokyo Olympics bring to Tokyo and Japan? I will examine this question from the perspective of urban policy and national land planning.
Dreams of a Bright Future Brought by the 1964 Tokyo Olympics
In 1964, Tokyo hosted the first ever Olympic Games to be held in Japan. At the time, I was a senior high school student and I witnessed huge changes to Tokyo with my own eyes. After the decision to award the Olympics to Tokyo was made in 1959, Tokyo made dramatic changes in preparation for the Games five years later. Social infrastructure developments were rapidly promoted, notably expressways and the bullet trains, and the age of full-scale motorization arrived along with an acceleration in rapid economic growth. This could be described as the first time since the end of the World WarⅡ that the Japanese people had something to get excited about. Cities and people change when an international event is looming. The Tokyo Olympics encouraged many people in Japan to build dreams and hopes for a bright future. After the Tokyo Olympics, Japan experienced various transitions, including prosperity under the Bubble Economy, and its later collapse. During the 1990s, the country experienced a drawn-out recession and there was almost nothing good to cheer about. Then, just when some promising signs had begun to emerge during the first decade of the 21st Century, in March 2011 Japan received the hammer blow of the Great East Japan Earthquake. The Japanese people now sense an urgent need for the country to rise again through the process of recovery. In 2002, as part of its efforts to rebuild the economy after the collapse of the Bubble Economy, the government enacted the Act on Special Measures concerning Urban Renaissance with the aim of leading a recovery in Japan's national strength from the cities. The policy was successful, and despite a falling population in Japan as a whole, Tokyo alone stood out and led the recovery ahead of other regions. Some observers have pointed out that this has led to a divided society, but the role played by cities in the recovery of nations is extremely important. However, the reality is that when coming up against international competition from other global cities even Tokyo has struggled.

Reference
http://www.chijihon.metro.tokyo.jp/ahq_project/english/invest-tokyo/area_introduction.html

Concept of "National Strategic Special Zones" Aimed at Improving International Competitiveness
As Head of the Working Group, I have been involved in the creation of the Global Power City Index (GPCI). Forty major global cities have been selected and assessed in the six main fields of Economy, R&D, Cultural Interaction, Livability, Environment and Accessibility. The cities are given overall assessments from the multiple perspectives of the five "actors" who live in cities: Managers, Researchers, Artists, Visitors and Residents. In the most recent survey, London ranked first, followed by New York in second, Paris in third and Tokyo in fourth. London's top ranking is a direct result of its hosting the 2012 Olympics, which helped it to overturn the previous top-ranking city New York. Although Tokyo is among the highest ranked cities, in recent years signs have emerged that its international competitiveness is on the wane. There is little to separate Tokyo from Paris in third place, but the gap with fifth placed Singapore is gradually closing. What's more, Singapore is not the only city that is a threat to Tokyo. Asian cities such as Seoul, Hong Kong, Beijing and Shanghai are making significant strides in the rankings.
Given this situation, in late 2011 the Japanese Government came up with the concept of Comprehensive Special Development Zones for International Competitiveness, with the aim of promoting the accumulation of industries and functions that would act as engines for economic growth. The idea was to strengthen international competitiveness by supporting deregulation and by promoting preferential legal measures. Six areas in Japan, including Tokyo, were recognized as Comprehensive Special Development Zones for International Competitiveness, and Tokyo launched activities aimed at promoting Tokyo as a "Special Zone for Asian Headquarters". This is a project that aims to attract foreign companies to Tokyo when setting up corporate bases in the Asian region. The aim is to attract at least 500 foreign companies in fields such as information, healthcare and media content by 2016, but progress has not been as successful as originally planned.
It has not been easy to make progress with deregulation. After reflecting on these difficulties, in 2013 Prime Minister Abe reviewed the Comprehensive Special Development Zones for International Competitiveness and established the concept of National Strategic Special Zones, setting out a plan to implement policies in a top-down manner to create an international business environment comparable to London and New York, with the aim of building cities that attract global technology, human resources and capital. Just as the Government was setting out on the implementation of these policies, it was announced that Tokyo had been selected as the host of the Olympic Games.
Acceleration of New Social Capital Development – Nearly 20 Trillion Yen as Economic Ripple Effect
Measures implemented under the National Strategic Special Zones policy will be promoted in tandem with urban policymaking aimed at the Olympics. A variety of deregulation initiatives have been included in the National Strategic Special Zones policy, includes the following: a review of regulations on floor area ratios and land use restrictions; easing standards for road occupancy; exemption from the Hotel Business Act for hotel facilities opening for short periods of time (to handle the hotel needs of overseas visitors); opening up the management of public schools to the private sector (fostering global human resources); the clarification of employment rules (promoting investment by global companies); exemptions on limited term employment; and promoting the development of healthcare provision for foreign nationals by foreign doctors. Many of these policies are related to the Olympics and the decision to award the Games to Tokyo has added forward momentum to the National Strategic Special Zones concept. As a result of Tokyo's selection as host, a clear departure has been made from the previous National Strategic Special Zones policy whereby "policies can be achieved whenever is convenient" into a new phase when "policies must be implemented by a certain deadline".
A lot needs to be done in preparation for the Olympics. Tokyo's social infrastructure is well-developed but ageing, and there is an urgent need for renewal and improvement. Developments for the 2020 Tokyo Olympics will be focused on waterfront areas, particularly Koto Ward. A new subway line between Toyosu and Sumiyoshi also appears to be within sight as a result of campaigning by Koto Ward. The internationalization of Tokyo's airports, not only Narita but also Haneda, will be accelerated. The combined number of overseas flights departing Narita and Haneda is less than half the number of overseas flights departing London's airports. There is a need for airport expansions in order to increase the number of flights, and the possibility of adding a fifth runway at Haneda has already been mooted, although this will not be achieved in time for 2020. It is likely that 24-hour runway operation will become a reality. Work is also scheduled to start on a Narita-Haneda railway line linking Narita Airport, Tokyo Station and Haneda Airport. The Chuo Shinkansen super express is scheduled to open in 2027, and environmental developments will be implemented in the vicinity of the planned terminal in Shinagawa Station with the Olympics in mind. The Tokyo Metropolitan Government estimates that the economic ripple effect of the Olympics will be 3 trillion yen. However, if we also include the impact of an acceleration in metropolitan development, a figure of 3 trillion yen is too conservative. Taking into account the increase in employment from overseas companies locating to Tokyo as a result of the promotion of the city's "Special Zone for Asian Headquarters", the construction of hotels to accommodate overseas visitors, the resulting ripple effects on the tourist industry, and an improvement in consumer appetite among Japanese citizens as a result of changes in mindset brought about by Tokyo hosting the Olympics, I have estimated the total economic ripple effect to be close to 20 trillion yen.
Tokyo Has the Best Urban Management in the World – The Olympics becomes a Chance to Show this to the World
Japan's athletes won many medals at the previous Olympic Games in London, and to celebrate their achievements a medalist's parade was held in Ginza, Tokyo. An astonishing 500,000 people came out to cheer the parade. It was clear to see that the hard-won achievements of young people gave people hope. Young people in their twenties have lived through times when there has not been much to cheer about. For this reason, many young people were delighted that Tokyo was awarded the Games, and the Olympics has given them an opportunity to dream. My own belief is that hosting the Olympics represents a last chance for Japan to recover its strength as a nation, and for this reason I was genuinely pleased at the decision. I am of the firm belief that the Tokyo Olympics will become an international event that brings numerous benefits to Japan in the future.
The difference between the city of Tokyo and other cities in Japan is the fact that, while Japan as a whole has now entered a period of declining population, Tokyo is the only urban area where the population is still increasing. Under these circumstances, one of the most pressing challenges that can be pointed out is the inefficient use of land. On average, Tokyo's buildings are low-rise, at between 2.5 to 3 stories. If this ground space could be consolidated into high-rise buildings it would free up space, which would be useful not only in terms of increasing greenery but also in disaster prevention. Disaster prevention has been a major challenge in cities, and Tokyo in particular, since Edo times. The concentration of wooden buildings lining the outer ring of the Yamanote railway line is particularly vulnerable to fire. There is a need to set out a vision for a next-generation city and promote urgent discussions on how to go about realizing an overall vision. Tokyo's urban administration, on the other hand, could be described as the best in the world (in terms of trains running on time, the smooth flow of people, etc.). What's more, I don't know of any cities with better air and water. The Olympics is an opportunity to show Tokyo's unique strengths to the world. It is conceivable that an urban vision set out by Tokyo could take on a global scale and spread throughout the world. Moreover, the Olympics can give rise to new industries. The previous Tokyo Olympics brought about a boom in English conversation classes, international class hotels were constructed and the security guard industry developed rapidly. The 2020 Tokyo Olympics represents an opportunity to display Japan's cutting-edge technology, particularly in the field of information. The Olympics will act as the perfect showcase.



Tokyo Olympics Game and Chuo Maglev Train lead — Continuous Recovery of National Strength up to 2030
As described above, I believe that the hosting of the Tokyo Olympics represents the best possible opportunity for a recovery in the strength of Japan as a nation. What are the main causes for concern as Tokyo prepares to host the Games? A large number of foreign visitors from numerous countries are expected, and there is a need to maintain peace of mind, safety and law and order in the city. As an earthquake-prone country, it is essential that Japan implements disaster preparation measures. Almost no buildings in Tokyo collapsed in the recent Great East Japan Earthquake, and Tokyo's buildings are made to withstand earthquakes. However, much of the city's infrastructure is ageing. There is a need to set up a list of priorities and set about updating this infrastructure. There is also a need for policies to be implemented in preparation for the possibility of the public transport network being crippled by an earthquake, resulting in large numbers of people struggling to get home and panic arising. As I have already pointed out, developing airport capacity is a pressing challenge. Despite these challenges, we can expect various renovation projects and the triggering of new industries as part of the preparation for the hosting of the Tokyo Olympics. What's more, the opening of the Chuo Maglev Train in 2027 will create a giant metropolitan area in which Tokyo incorporates everything up to and including Nagoya. I believe that the emergence of a new metropolitan area, in which services industry-led Tokyo and manufacturing-led Nagoya are unified, will maintain the recovery phase of Japan's national strength up until around 2030. The hosting of the Tokyo Olympics is a once-in-a-lifetime "detonator" for a recovery in the strength of Japan as a nation. In addition to enjoying the hosting of the Olympics as a nation, as an expert in urban policy-making and urban development, I want to propose a vision for urban policy and urban development that will allow us to host the event as successfully as possible.
Hiroo ICHIKAWA
Professor, Dean of the Professional Graduate Schools, Dean of the Graduate School of Governance Studies, Meiji University
President, Meiji University Research Center for Crisis and Contingency Management.
President, Japan Telework Society. President, Japan Institute of Emergency Managers.
Specialist fields
Urban policy-making, crisis management and next-generation planning.
Participated in numerous urban development and regional development projects, in both developed and developing countries.
Currently involved in making urban strategy proposals in consideration of competition between international cities.
Preeminent expert in Tokyo research, and has positions at numerous organizations, including Tokyo's City Planning Committee.
Academic Background
Ph.D. in Urban Policy, Urban and Regional Planning
Born in Tokyo in 1947.
After earning a Bachelor of Engineering in Architecture and a Master of Engineering from Waseda University, he received a Ph.D. at the University of Waterloo, Canada.