Courtesy call by MU President Fukumiya on the Chinese Academy of Social Sciences and the Central University of Finance and Economics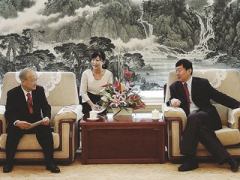 President Fukumiya chatting with Vice President Li (at right) at the Chinese Academy of Social Sciences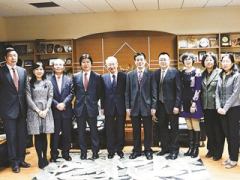 Enjoying a cordial conversation at the Central University of Finance and Economics
A Meiji University group led by President Kenichi Fukumiya, Vice-President Masahiro Yamamoto (Research), and Prof. Takehiko Yoshimura of the Meiji University School of Arts and Letters made a courtesy visit to the Chinese Academy of Social Sciences (CASS) and the Central University of Finance and Economics (CUFE) in Beijing, over the period November 20 - 22, 2013.

Ever since conclusion of their partnership agreement in 2010, the CASS and Meiji University have engaged in academic exchange on the theme "History of Interchange and Relations between Japan and China." At the CASS, the group chatted with a group of five, including Dr. Li Peilin, Vice President, and Dr. Wang Lei , Director-General of the Bureau of International Cooperation.

At the CUFE, the group met with a group of six, including Dr. Wang Guangqian, President; Dr. Sun Guohui, Dean of the CUFE Graduate School; and Dr. Zhou Weizhong, Associate Dean of the CUFE Graduate School. President Fukumiya and President Wang described new activities at their respective universities since the 2006 conclusion of the partnership agreement, and discussed approaches to interchange from now on.