International exchange between elementary school students and exchange students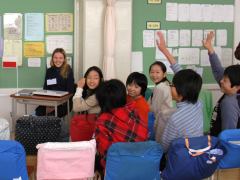 Elementary school students studied about and made presentations on the home countries of the exchange students.
【School of Global Japanese Studies】

On February 14, members of the International Exchange Student Committee in the School of Global Japanese Studies and exchange students visited the Midorino Elementary School in Nakano-ku, Tokyo for an enjoyable program of international exchange with about 80 sixth-grade students.

The planning of the program was occasioned by a proposal made in the Multicultural Symbiosis Forum held on the Nakano Campus last December. The program grew out of collaboration between the committee and the school.