YANMAR Prize for Students' Essays — Oe Research Unit (School of Agriculture) and Omori Research Seminar (School of Political Science and Economics) Win the Awards of Excellence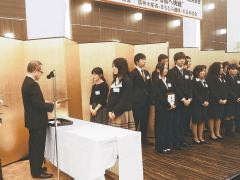 Four third-year students (Saki Kishimoto, Naoki Takemoto, Mina Nakajima, and Yumi Yoshikawa) from the Research Unit of Professor Tetsuo Oe of the School of Agriculture and five third-year students (Yuki Sato, Shota Sano, Ryuji Furusawa, Sae Mizushima, and Naoko Miyakawa) from the Research Seminar of Professor Masayuki Omori of the School of Political Science and Economics won the Awards of Excellence for the "24th YANMAR Prize for Student's Essays". The award ceremony was held at Mielparque Tokyo on January 31.

YANMAR launched this competition in order to offer opportunities for young people to openly and broadly discuss the future of agriculture and agricultural villages. Competing essays discussed the three topics in line with the theme "A challenge for evolving agriculture". Seventy teams submitted their essays this year among which one Grand Prix, two Awards of Extraordinary Excellence and 10 Awards of Excellence were selected.