Construction of Ikuta Area 1 - Building No. 6 of the School of Agriculture's Experiment and Research Facility Completed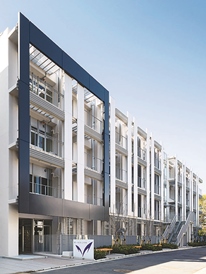 Exterior of the stylish and state-of-the-art Building - No. 6
State-of-the-art Equipment Including a Closed System Glass Greenhouse
【Ikuta Campus】
A ceremony was held for the completion of construction of the new Ikuta Area 1 - Building No. 6 that will be the
School of Agriculture
's new experiment and research facility.
Building - No. 6 has four floors and one basement level (total floor area approximately 5,300 square meters) and is located near the farm and greenhouse on the hill on the south side of the
Ikuta Campus
. In addition to the classrooms and standard laboratories and research room, the building has a cultivation room for genetically modified organisms and a shade-free closed-system glass greenhouse on the top floor as well as a common relaxation space with an open-ceiling design offering excellent ventilation and natural lighting. Designed to avoid the closed image of experiment and research facility, the new building has brightly lit open areas.