The Bulgarian vice president holds a lecture for Meiji students, commemorating the 55th anniversary of the resumption of diplomatic relations with Japan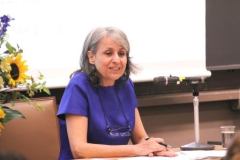 Vice President Popova holding the talk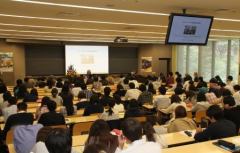 The venue was almost filled with a large student turnout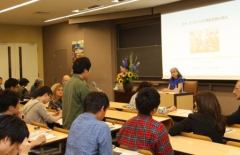 Students enthusiastically asking questions
On May 23, the Meiji University International Collaboration Division welcomed Vice President Margarita Popova of the Republic of Bulgaria for a lecture themed "Bilateral relations between Bulgaria and Japan – past, present, and future" at the Surugadai Campus Liberty Tower.

Ms. Popova was visiting Japan to commemorate the 55th anniversary of the resumption of diplomatic relations between Japan and Bulgaria. She gave a presentation to a group of approximately 150 students on the topic of Bulgaria, a cradle of European civilization that produced the script from which Slavic languages originate, civil codes, and other such cultural assets. Bringing up an anecdote about the founding of Meiji University 133 years ago as well, she gave an enthusiastic talk about the history of the growth of friendly relations between the two countries from that time, and about Bulgaria's foreign policy as a member of the EU.

On the topic of future relations with Japan, she spoke of her intentions for Bulgaria to continue carrying out its role in international society as a global partner, and that in particular she would like to strengthen relations between the two countries with regards to education and scientific innovation, security and defense, agricultural technologies, and businesses related to those fields.

Additionally, Ms. Popova spoke of her expectations of the students who in the future will play a role in international society, saying that to address the challenges facing the world, countries must collaborate and cooperate together on a basis of relationships of mutual trust and respect. She added that it is important that Japan and Bulgaria strive together to work toward peace in the world.

After her talk concluded, she took questions from students on topics such as social welfare in Japan and Bulgaria and relations between Bulgaria and Russia, making it a more than fulfilling lecture.