A program held at the Izumi and Nakano campuses to provide support for refugees with donations of 20 yen per meal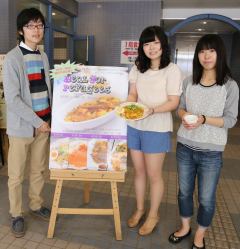 Eat and learn about refugees! (Tamura in the middle)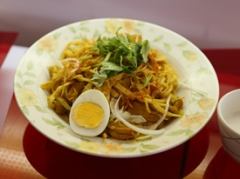 Burmese-style Noodles with Kinako served at the cafeteria on the Izumi Campus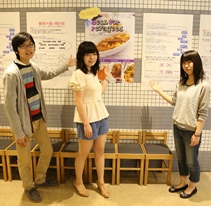 Display in the cafeteria to educate students about refugees
Bringing familiar tastes to refugees - Meal for Refugee

To deepen interest in and understanding of refugees, the Meal for Refugee (M4R) project is being held at the student cafeterias on the Izumi and Nakano campuses from May to June. It is based on the inclusion of dishes from the home countries of refugees in Japan into the cafeteria menu.
MR4 is a project of social contribution born from "Flavours Without Borders," a recipe book put together through collaboration with refugees living in Japan by the Japan Association for Refugees (JAR), a certified non-profit organization (NPO). The activities at Meiji University in May and June were initiated by concerned Meiji University students who had been involved as volunteer staff with the Refugee Film Festival (organized by the Office of the United Nations High Commissioner for Refugees) held last year also at Meiji University, with the cooperation of the JAR.
The program is being held over the periods May 19–30 and June 16–27 (excluding Saturdays and Sundays) at the cafeteria on the Izumi Campus and June 16–20 at that on the Nakano Campus. During these periods, the cafeterias are serving dishes from six different countries and ethnic groups in total. For each meal served, a donation of 20 yen is made to support refugees living in Japan.
During the first week of the program on the Izumi Campus (May 19–23), the cafeteria served a Burmese-style meal consisting of a dish of salad udon noodles made with soybean flour plus a dessert of tapioca and sweet potato. This Burmese-style meal was ordered by many students, who loved the flavors and the exquisite pairing of the spicy noodles and sweet dessert.
Anna Tamura (a third-year student in the School of Law), who represents Meiji University in the M4R project, said she hoped the program would make students aware that there are refugees in Japan, too, through the medium of something as familiar as food.
【MENU】
■Izumi Campus
(1-9-1 Eifuku, Suginami-ku, Tokyo [Izumi Cafeteria (Izumi no Mori)])
Serving different dishes every week for the price of 400 yen
from 10:30 (limited quantity; the offer ends when the dishes are sold out)
Week 1

May 19 - 23

Burmese-style Noodles with Kinako + Tapioca Milk with Sweet Potatoes (Burma)

Week 2

May 26 - 30

Mild Chicken Curry (Pakistan)

Week 3

June 16 - 20

Beef and Potato in Tomato Sauce + Omelette with Chinese Chives +Rice(Azeri)

Week 4

June 23 - 27

Pakistani Biryani + Bread Pudding with Nuts and Raisins (Pakistan)
■Nakano Campus
(4-21-1 Nakano, Nakano-ku, Tokyo [Low-Rise Wing 1F Cafeteria])
Serving a daily special every day for the price of 340 yen,
from 11:00 for one week only(no more than 50 meals per day)
June 16
Spicy Chicken and Vegetable Stir-fry + Rice
(Sri Lanka)
June 17
Taro Stew +Rice
(Kachin)
June 18
Beef and Potato in Tomato Sauce + Rice
(Azeri)
June 19
Burmese-style Noodles with Kinako
(Burma)
June 20
Pork Stir-fry with Garam Masala + Rice
(Nepal)