Cool Japan Summer Program 2015 Held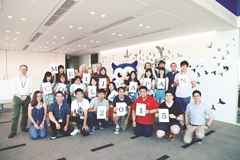 With Meijiro at the opening ceremony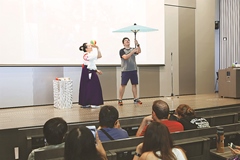 Taking a shot at performing Daikagura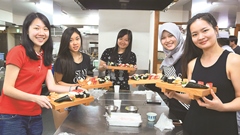 "What do you think? My sushi looks pretty good, doesn't it?
From July 22 to August 6, the Organization for International Collaboration held the Meiji University Cool Japan Summer Program 2015 for students from other countries. In this short-term program, the students learned about elements of both contemporary and traditional Japanese culture in such forms as manga, anime, music, fashion, craftsmanship, and cuisine, through a variety of lectures, workshops, and field trips.

The program was designed for university and graduate school students residing outside Japan, and was promoted under the banner "Discover Your Cool Japan at Meiji University". It began in 2010 as an attempt to attract students in other countries for study in Japan.In this, its sixth year, the program attracted a total of 25 students from 11 countries and regions, including the United States, Australia, the United Kingdom, Malaysia, and Taiwan.

Besides lectures with titles including "The Otaku Culture and Akihabara," "Japanese culture and hospitality," "Japanese Culture – Depth and Diversity," and "Promoting Cool Japan to the World," the program offered workshops on anime, "Daikagura" (a Japanese traditional and spiritual performance), and Aikido.

The program featured a stellar lineup of instructors; aside from Meiji University teachers, it included Kazuhiko Tsutsumi, the producer of the NHK TV program titled "cool japan" and Mr. Ichiro Itano, the world-renowned animator.

There were also off-campus field trips to places such as Tokyo's Akihabara district (a center of manga and otaku culture), anime studios, sushi restaurants (where the students made sushi themselves), and Kyoto, where they stayed at a temple and dressed in informal yukata kimonos. On the final day, the students made presentations on the topic "the Cool Japan of my own discovery."

Through the intensive 16-day program, the students immersed themselves from head to toe in the old and new cultures of Japan, and left for their home countries with precious experiences and memories of Japan.