Launched website helping foreigners to find housing in Nakano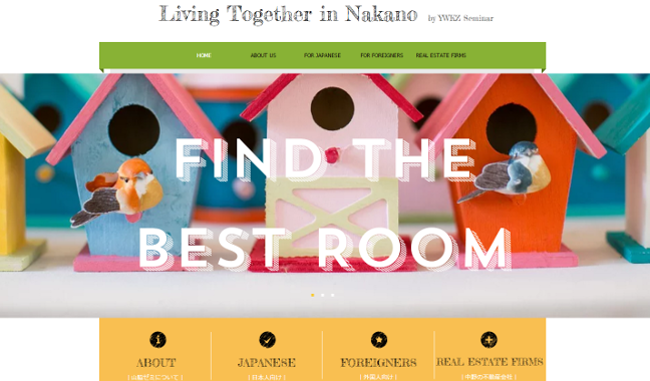 The Yamawaki Seminar, which is devoted to research on multicultural symbiosis, conducted an interview survey with real estate agencies and foreign residents in Nakano Ward and a meeting for exchange of ideas between the two held in September 2016. These activities revealed that many foreign residents have difficulty finding housing in Japan, and that many landlords do not welcome foreign tenants.
To resolve these issues, on February 1, 2017, the Seminar launched a website to help foreign nationals find housing in the ward. Titled "Living Together in Nakano," the website was prepared with the cooperation of the Nakano-ku Tourism Association, Association for Nakano International Communications, real estate agencies in the ward, and Global Trust Networks Co., Ltd., a rental housing guarantor company for foreign nationals.
Besides introducing real estate agencies in the ward that welcome foreign nationals, the website outlines systemic arrangements for rental housing and lifestyle conventions in Japan as well as lifestyle conventions in other countries.
Its objective is to deepen mutual understanding between Japanese and foreign nationals, and assist the creation of communities that are pleasant for residence by both.
◇Living Together in Nakano
http://yamawakiseminar.wixsite.com/mysite
◇The meeting for exchange of ideas between real estate agencies and foreign residents in Nakano Ward
https://www.meiji.ac.jp/nippon/info/2016/6t5h7p00000m2zoo.html