Meetings between Meiji University's President & Vice President and Shikon-kai members in New York and Brazil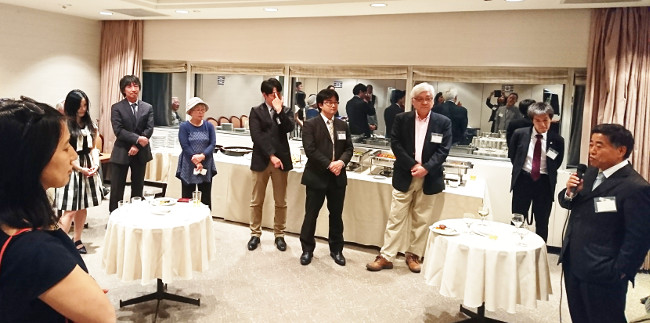 Speech by President Tsuchiya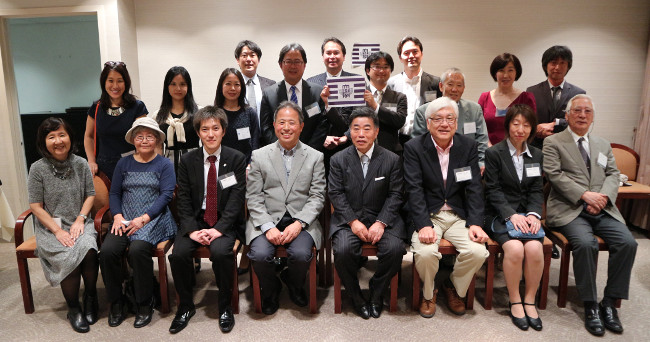 Group photo of the New York Shikon-kai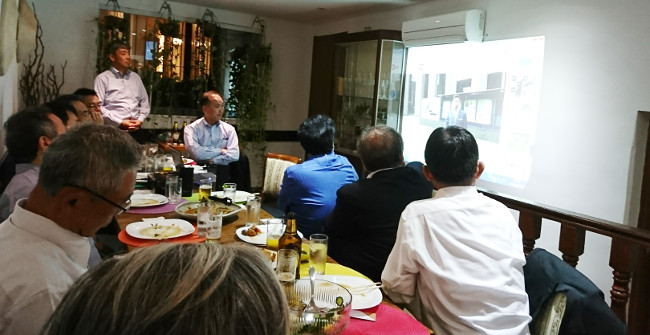 Participants gazing at the video message by President Tsuchiya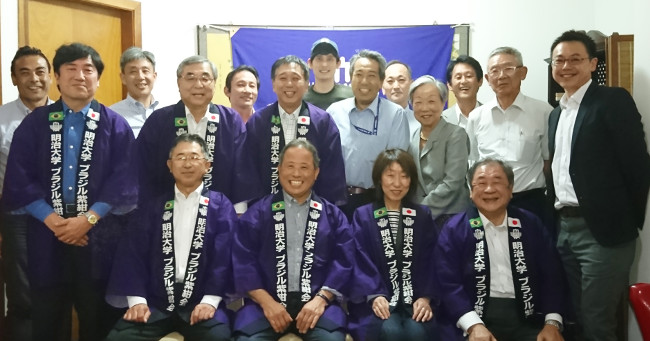 Group photo of the Brazil Shikon-kai
Meiji University President Keiichiro Tsuchiya and Vice President Masami Kobayashi attended meetings for interchange with members of the Shikon-kai (Alumni Club) in New York and Sao Paulo. The meetings were held in conjunction with a series of activities including a visit by President Tsuchiya to the United Nations and by Vice President Kobayashi to JAPAN HOUSE Sao Paulo. At the meetings, they engaged in a direct exchange of views with Meiji University alumni active on the global stage.
Our heartfelt thanks to the members of the Brazil and New York Shikon-kai who worked so hard to organize and stage these meetings!
1. The New York Shikon-kai
On the evening of May 1, 2017, a meeting with the New York Shikon-kai was held at the Japan Club in Manhattan. The meeting was attended by President Tsuchiya, Vice President Kobayashi, and five Meiji University faculty members, including Toshio Harigaya, Dean of the School of Agriculture, and about 15 alumni who have put down roots in New York and are active there. The participants deepened mutual ties. The meeting was held after the visit to the United Nations on the same day. President Tsuchiya presented a report on that visit and the globalization at Meiji University.
2. Meeting with the Brazil Shikon-kai
After completion of the university affairs in New York, Vice President Kobayashi and Mariko Nakabayashi, President's Staff, departed for Sao Paulo early on the morning of May 3. On the afternoon of the same day, they were joined by Meiji University Special Advisor to the President Masato Ninomiya and Goro Mutsuura. In the evening, they attended a meeting for interchange with the Shikon-kai at a Japanese restaurant.
Most of the Shikon-kai members are businessperson who were sent to Brazil by the Japanese headquarters. At the meeting, they introduced the history of the Brazil Shikon-kai since its founding in 2014. There was also a surprise video message from President Tsuchiya. The participants sang the school song to conclude the meeting in the same way as the Meiji University's alumni meetings held in Japan.
On the next day (May 4) as well, many members of the Shikon-kai came to the ceremony for signature of the cooperation agreement at the Japanese Chamber of Commerce and Industry in Brazil and the forum at FAAP University, a partner university (at this forum, Vice President Masami Kobayashi participated as a panelist along with Angela Hirata, Director of JAPAN HOUSE Sao Paulo, and Takahiro Nakamae, Consul-General of the Japanese Consulate General in Sao Paulo.)

■
Related articles
・
President Tsuchiya pays courtesy visit to UN Secretary-General Guterres
・ Memo signed for partnership & cooperation with the Japanese Chamber of Commerce and Industry in Brazil
>>
Meiji University website version
>>
Chamber version (in Japanese)
・
Donation of manga books to JAPAN HOUSE Sao Paulo (Brazil) by Meiji University