Donation of manga books to JAPAN HOUSE Sao Paulo by Meiji University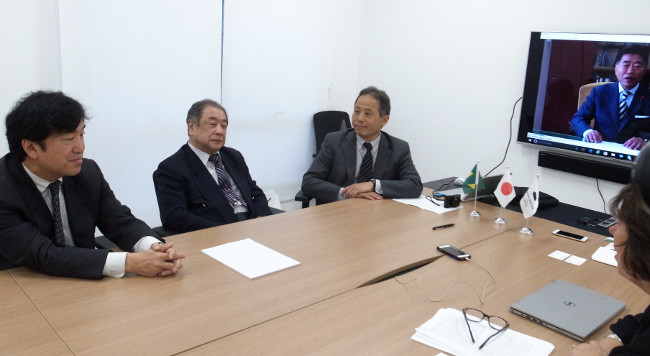 Interview by the JHSP press representative
(with a video message by President Tsuchiya in the background)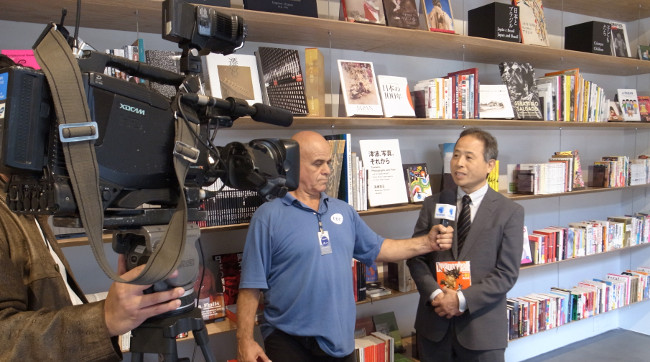 Vice President Masami Kobayashi being interviewed in front of the donated manga books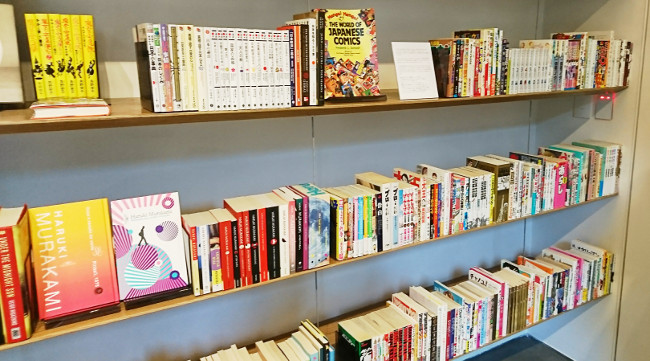 The manga books were placed in the media space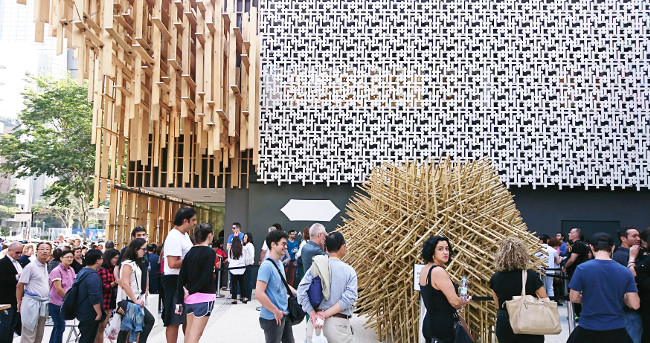 The lively scene on the JHSP's opening day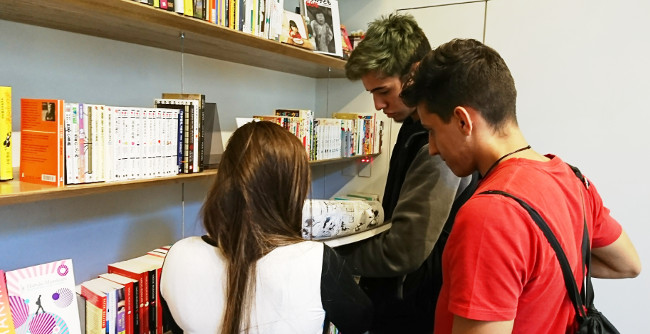 Brazilian youth enjoying manga
Meiji University donated 200 manga books to JAPAN HOUSE Sao Paulo (
http://www.japanhouse.jp/
(hereinafter referred to as "JHSP")) for the purpose of furthering cultural interchange with Brazil, promoting education and research at Meiji University, and contributing to international partnership. The JHSP was founded by the Ministry of Foreign Affairs as a center for "all-Japan" publicity, in response to the rising need to bolster the strategic capabilities for dissemination of information in other countries.
A press conference on the donation was held within the JHSP on May 5, 2017, the day before its opening. A video message from Keiichiro Tsuchiya, President of Meiji University, was shown there. In addition, Meiji University Vice President Masami Kobayashi (Comprehensive Academic Policy) was interviewed by members of a local TV station and newspaper. In keeping with the character of Sao Paulo, which has more people of Japanese ancestry than any other city outside Japan, articles on the donation were distributed in Japanese as well as Portuguese.
Over the first two days, the JHSP drew about 7,500 visitors.
■ Summary of the press release in Sao Paulo
A series of the donation books were titled 'An Anthology of Contemporary Japanese Manga' to show the diversity of manga. The books were selected from the Yoshihiro Yonezawa Memorial Library of Manga and Subcultures, a library that is owned by Meiji University and devoted exclusively to manga. The JHSP is planning to conduct education and research activities through various events, including workshops, discussions, and presentations through manga. In addition to the JHSP, Meiji University is making preparations for donation of manga books to Brazilian partner universities (the University of Sao Paulo, the University of the Armando Alvares Penteado Foundation (FAAP), and the Faculdades Integradas Rio Branco), as well as the Sociedade Brasileira de Cultura Japonesa e de Assistencia Social and the Alianca Cultural Brasil-Japao.
Meiji University has already donated manga books to Peking University, and is otherwise developing international programs of cultural and academic interchange through manga. In the eyes of Meiji University, manga are important contents and tools for conveying Japan's appeals to people in other countries.
Since 2009, Meiji University has been expanding its activities in the region of Latin America, with a focus on student exchange with partner universities. On this latest occasion, it concluded an agreement for cooperation with the Japanese Chamber of Commerce and Industry in Brazil. Meiji University intends to disseminate information on Japan and the Japanese language using manga as a tool, and deepen of knowledge about Japan and development of human resources who can serve as bridges between Japan and Latin American countries in the future.
■ The donation of manga books was reported in various media, as follows.
・
Nikkei Shimbun (in Japanese)
・
Sao Paulo Shimbun (in Japanese)

■
Related articles
・ Memo signed for partnership & cooperation with the Japanese Chamber of Commerce and Industry in Brazil
>>
Meiji University website version
>>
Chamber version (in Japanese)
・
Meetings between Meiji University's President & Vice President and Shikon-kai members in New York and Brazil