~The Year of Czech Culture 2017~100 Years of Czech Comics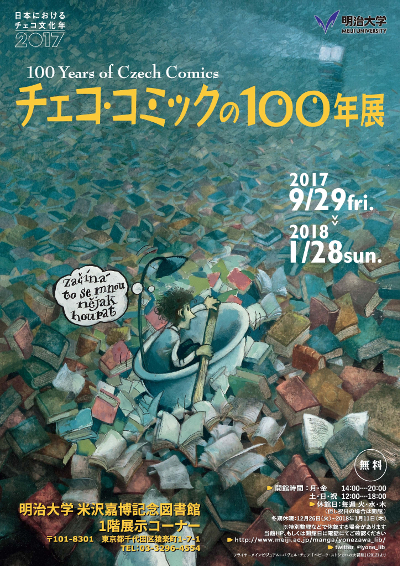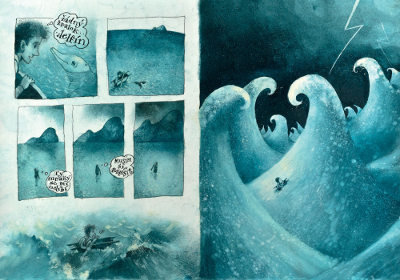 Pavel Čech [Exhibition: Sep.29 - Oct.23]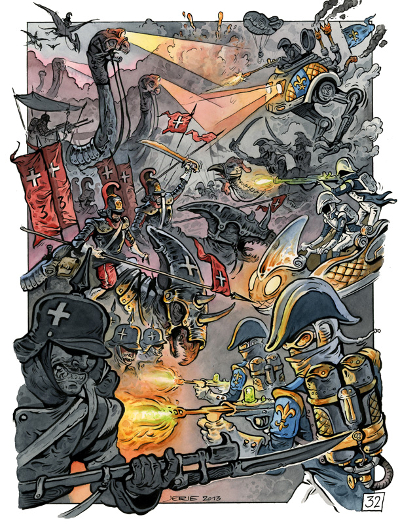 Karel Jerie [Exhibition: Oct. 27 - Nov. 20]
Between September 29, 2017 and January 28, 2018, the Meiji University Yoshihiro Yonezawa Memorial Library of Manga and Subcultures will be holding "- The Year of Czech Culture 2017 – 100 Years of Czech Comics."
During modern years, Czech Republic's original comic culture continued to grow. World's comic culture, which was oppressed by long-lasting Communist reign, after being freed, was introduced to Czech Republic all at once. Amidst the stimulus and shock – for example, thanks to interaction with Franco-Belgian comics (BD), or influence of American and Japanese comics, frames were being used in illustrated books, or famous stories were remade into comics forms – new tides of comic appeared.
Our exhibition will be divided into 4 parts, in which we will introduce beginnings and history of Czech comics through magazines, comic books and other data. In each part will also be introduced a key frame (original pictures) of one Czech comics author - Pavel Čech, Karel Jerie, Lucie Lomová, Nikkarin- who is currently representing modern era of Czech comics. Please enjoy the cruise on Japan's first small boat which is going to sail for a sea of 100 years long history of Czech comic.
Place:
Meiji Univeristy Yonezawa Memorial Library of Manga and Subculture (
Exhibition room on the first floor
)

Address:
1-7-1 Sarugakucho, Chiyoda-ku, Tokyo


Period:
September 29 (Fri.), 2017 - January 28 (Sun.), 2018
* The library is closed on Tuesdays, Wednesdays, and Thursdays (the library will be open if these days fall on a national holiday)
* The library may sometimes be closed for special organization or other reasons. Please confirm by checking the library website or making an inquiry by calling during library hours.

Flyer:
(Front)
http://www.meiji.ac.jp/manga/yonezawa_lib/pdf/2017_czech-omote.pdf
(Back)
http://www.meiji.ac.jp/manga/yonezawa_lib/pdf/2017_czech-ura.pdf


* For more details about this exhibition, please see the Miraikan press release (Japanese) at the following URL

http://www.meiji.ac.jp/manga/yonezawa_lib/exh-czech.html
[I
nquiry]
Meiji Univeristy Yonezawa Memorial Library of Manga and Subculture
Address:
1-7-1 Sarugakucho, Chiyoda-ku, Tokyo
Tel:
03-3296-4554

URL:
http://www.meiji.ac.jp/manga/english/yonezawa_lib/