Table Tennis Club: Masataka Morizono won second ever Japanese victory in the men's doubles event at the Grand Finals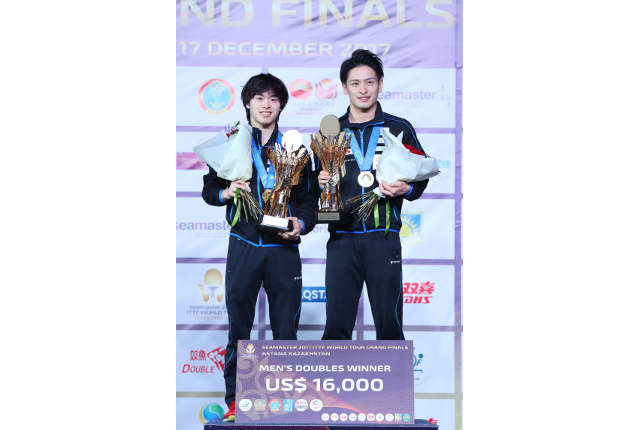 Gold medal winners Morizono (left) and Oshima (Photo by Yohei Osada/AFLO SPORT)

At the 2017 International Table Tennis Federation (ITTF) World Tour Grand Finals held in Kazakhstan, Astana between December 14 and 17, Masataka Morizono (a fourth-year student in the School of Political Science and Economics) of the Athletic Association's Table Tennis Club won Japan's second ever victory in the men's doubles event for the first time in two years.

In the final match, Morizono was paired with Yuya Oshima (Waseda University) and defeated the Hong Kong team by a score of 4-3.

The Grand Finals is an international table tennis competition fought by athletes who rank among the top in terms of the number of points accumulated at ITTF World Tour events.

The Morizono-Oshima pairing have reached the ITTF World Grand Finals for three consecutive years. They won in 2015 (at the tournament held in Lisbon, Portugal) and were runners-up in 2016 (Doha, Qatar).