The Okiagari Koboshi Project - "Kawaii" social assistance by more than 100 cartoonists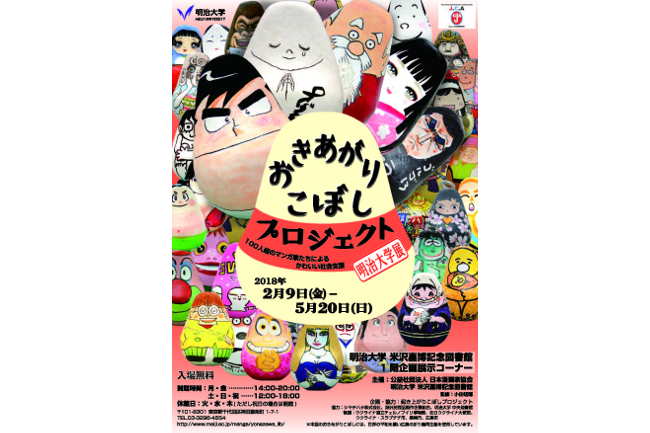 *The Okiagari Koboshi dolls in this exhibit are all made of paper recycled from origami cranes dedicated to Hiroshima in the hope of world peace.
Outline of the exhibit
Featuring displays of okiagari koboshi (self-righting daruma dolls) made by cartoonists, this exhibition introduces the history of the Okiagari Koboshi Project and the social contribution made by cartoonists for recovery from the Great East Japan Earthquake disaster.
Organizer:
Japan Cartoonists Association (
https://www.nihonmangakakyokai.or.jp/
)
Meiji University Yonezawa Memorial Library of Manga and Subculture
Supervision:
Hiroshi Odagiri
Planning and cooperation: Okiagari Koboshi Project
Cooperation:
Shachihata Inc.
Nozawa Mingei Production Company Cooperative
Meiji University Central Library
Support:
The Ukrainian National Chornobyl Museum
The Ukrainian Embassy in Japan
City of Slavutich, Ukraine
City of Nagasaki
City of Hiroshima
[Place]
Meiji University Yonezawa Memorial Library of Manga and Subculture (Exhibition room on the first floor)

[Period]
February 9 (Fri.), 2018 - May 20 (Sun.), 2018
* The library is closed on Tuesdays, Wednesdays, and Thursdays (the library will be open if these days fall on a national holiday)
* The library may sometimes be closed for special organization or other reasons. Please confirm by checking the library website or making an inquiry by calling during library hours.
[Address]
1-7-1 Kanda-Sarugakucho, Chiyoda-ku, Tokyo
[Flyer]
(Front)
http://www.meiji.ac.jp/manga/yonezawa_lib/pdf/koboshi-omote.pdf
(Back)
http://www.meiji.ac.jp/manga/yonezawa_lib/pdf/koboshi-ura.pdf
* For more details about this exhibition, please see the following URL.
http://www.meiji.ac.jp/manga/yonezawa_lib/exh-koboshi.html
Okiagari Koboshi Project
Japanese society incurred tremendous damage from the Great East Japan Earthquake, which struck on March 11, 2011. The Okiagari Koboshi Project showcased in this exhibition is a movement that began with activities in support of recovery by Japanese nationals residing in France. In response to a call by fashion designer Kenzo Takada in 2013, noted French celebrities (including Alain Delon and Jean Reno) painted okiagari koboshi dolls, which are a type of traditional folk art in Fukushima Prefecture. This activity grew into a movement aimed at building, in French society, understanding of and empathy with the area affected by the earthquake and the ensuing nuclear catastrophe. This activity attracted considerable attention, and the dolls toured cities in France, Spain, and other countries.
The "manga koboshi" works by artists who are members of the Japan Cartoonists Association, which are at the heart of this exhibition, were added to the tour beginning in 2014. The combination of manga, which is universally recognized as a form of Japanese pop culture, and the folk arts of Japan's Tohoku region has been one of the forces behind the great upsurge of empathy among the people of Europe along with the subsequent widening of this project to Italy and the Ukraine.
Works exhibited
Centered on those made by Japanese cartoonists, the exhibition presents more than 160 okiagari koboshi dolls, including works by celebrities and members of the general public in different countries, as well as works produced especially for this exhibition.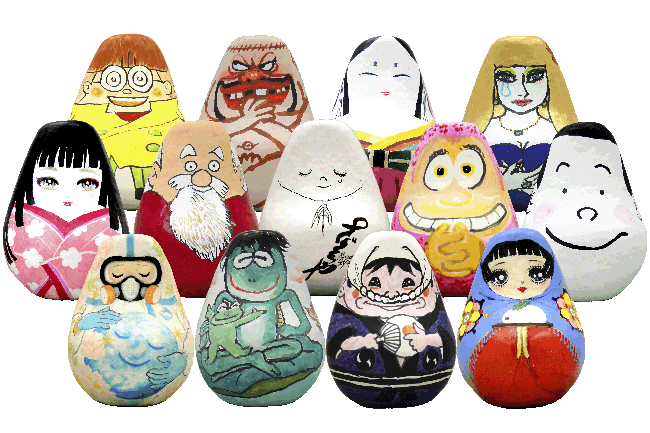 [From the top-left of this image: Aooni Yamane, Big Jo, Toshiko Nishida, Toku Yano, Machiko Satonaka, Kenji Morita, Tetsuya Chiba, Kamakiri Uno, Masashi Ueda, Noriko Nagano, Isao Yano, Baron Yoshimoto, Eiko Hanamura]
• Okiagari koboshi dolls by celebrities
The exhibition features numerous works by Kenzo Takada, who launched the project, and other celebrities.
• Painting demonstrations by cartoonists at the venue
Details will be provided as available.
• "Yomigaeri Koboshi" ("Revival Doll")
The exhibition will also show dolls painted by the manga god (?).
• Stamps with illustrations by cartoonists especially for the exhibition
Stamps with illustrations only available at this exhibition. Additions are possible during the run of the exhibition.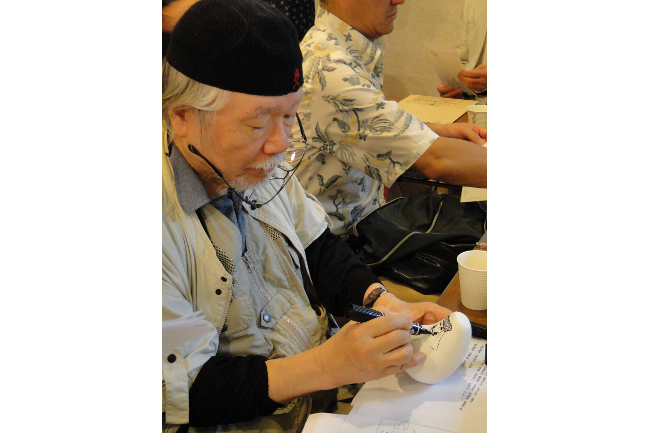 [Leiji Matsumoto painting a doll]
Other related events will also be held.
A related exhibition at Meiji University Central Library
An exhibition of actual okiagari koboshi dolls and related books will be held at the Central Library in Meiji University's Liberty Tower.
Exhibition dates: March 21 – April 25 (closed on March 30), during Central Library hours
Admission: free
Okiagari Koboshi Project Facebook account
https://ja-jp.facebook.com/OkiagariKoboshiProject/
Click here for images of previous Okiagari Koboshi Project exhibitions.