Table Tennis Club: Victory in Mixed Doubles by Morizono Pair in the All Japan Table Tennis Championship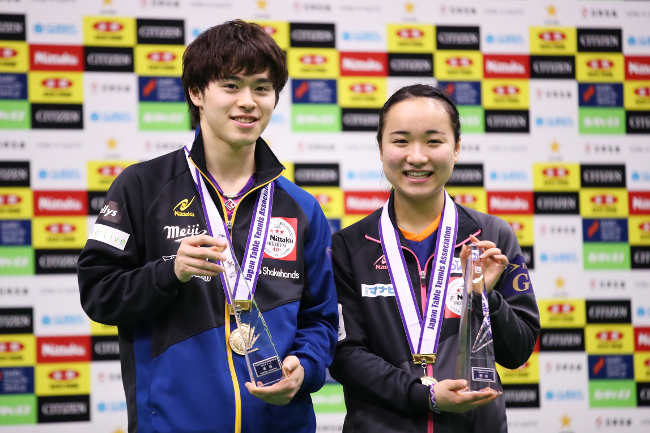 Morizono (left) and Ito after the pair overwhelmed their opponents by winning every single match in the finals (Photo by AFLO SPORT)

In the Emperor's Cup and Empress' Cup 2017 All Japan Table Tennis Championship competition held at Tokyo Metropolitan Gymnasium during the period January 15 – 21, the pair of Masataka Morizono, a member of the Meiji University Athletic Association Table Tennis Club (a fourth-year student in the School of Political Science and Economics), and Mima Ito won the mixed doubles event.

It has been decided to include mixed doubles as a new event in the Tokyo Olympics. In last year's World Table Tennis Championships, Morizono took the silver medal in the men's doubles event, and Ito, the bronze medal in the women's doubles event. As a pair, the two scored their first victory in the mixed doubles event after winning all six of their matches in the finals.

Morizono also finished in third place in the men's singles competition in the Championship.