[Baseball Club] Celebratory parade and ceremony were held for the victory in the Tokyo Big 6 Baseball Spring Championship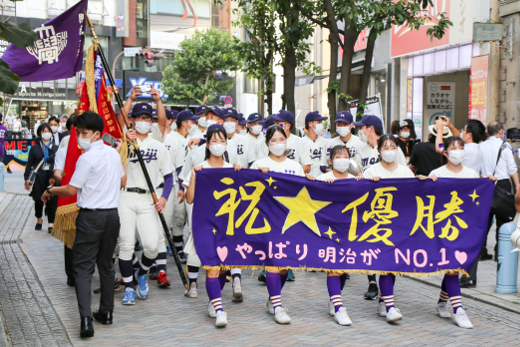 Celebratory parade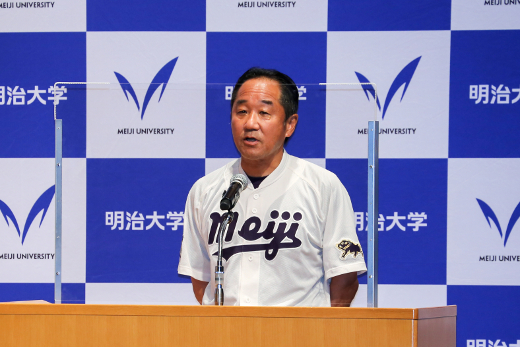 Manager Tanaka saying, "We've got through a long season of 15 games. It's given us great confidence."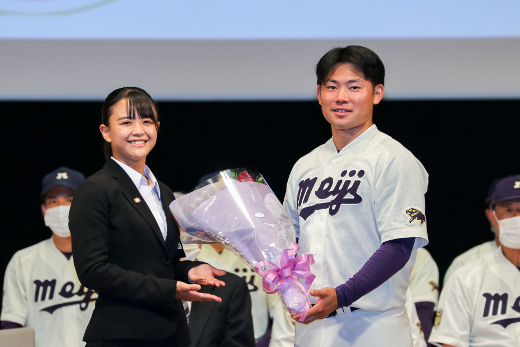 Captain Muramatsu (right) receiving a flower bouquet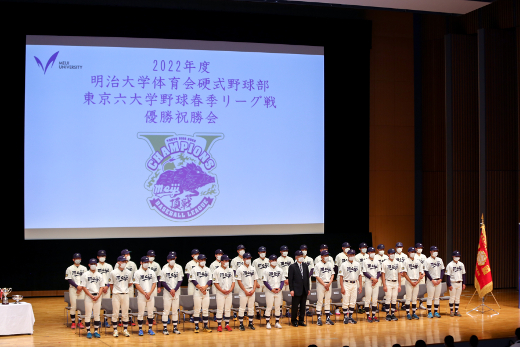 On June 29, a celebratory parade was held around the Surugadai Campus to celebrate the Baseball Club's 41st victory in the Tokyo Big 6 Baseball Spring Championship for the first time in six seasons. About 200 people, including Baseball Club members, the Cheerleading Party, and university officials, walked along Meidai-dori Street, Suzuran-dori Street and other streets, while Meiji University students, neighborhood residents, the alumni, and other fans of the Baseball Club looked on.
After the parade, a celebratory ceremony was held at Academy Hall. Following congratulatory speeches by President Kosaku Dairokuno and Chairman, Board of Trustees Takashi Yanagiya, General Manager Yuichiro Yamamoto (Professor in the School of Commerce) and Manager Takehiro Tanaka of the Baseball Club took the stage. Manager Tanaka, who won his first league title since being appointed, enthusiastically said, "We've got through a long season of 15 games. It's given us great confidence. In the autumn league games, we want to be fully prepared for the five universities that are trying to defeat Meiji, with our strength, stamina and skills, which are greater than the others'."
In addition, Captain Kaito Muramatsu (4th year, School of Information and Communication) took the stage to express his gratitude to university staff and nationwide fans of Meiji University Baseball Club, firmly saying, "All members of the club, including those who have not been able to participate in this ceremony owing to classes, want to work hard for the best place in the autumn league games."
After that, a flower bouquet was presented to Captain Muramatsu from the leader of the Cheerleading Party, Ms. Yuri Nakato (4th year, School of Agriculture), Manager Tanaka introduced the members, and a Q&A session for the members was held. Finally, the Cheerleading Party gave performances such as the Chance Pattern Medley, and sang the school song.
Although the participants were unable to speak out owing to infection prevention measures, the ceremony was closed with a thunderous applause.