[Fencing Club] Wins the women's épée team competition at the Kanto Student Fencing Championship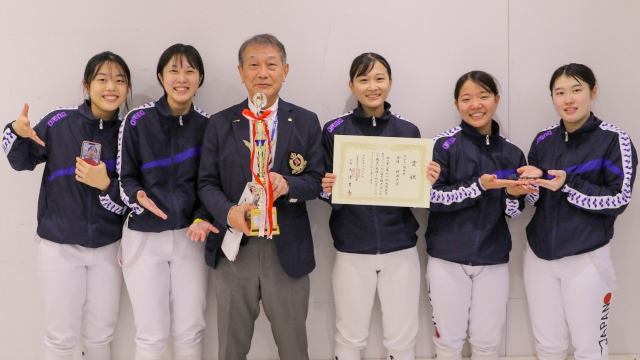 Meiji student-athletes celebrating their championship (photo: Meidai sports)
The fencing club won the women's épée team competition at the 74th Kanto Student Fencing Championship (11 to 13 and 20 to 21 October) held at Komazawa Olympic Park Stadium indoor arena.
In addition, both men's and women's teams won prizes in multiple individual events, including Yuri Inayama (2nd year in School of Business Administration), who took the second place in the women's épée individual competition.
Comment from Player / Club operations manager Yuri Nakamura (4th year in the School of Business Administration)
I am very happy that we were able to win the team championship in the Kanto Student Fencing Championship following the playoff of the All Japan Student Championship. In this tournament, we played in a new team with freshmen members, and the performance of the younger students contributed to our victory.
Three players fight in the group match of fencing, while the women's épée team in Meiji University has six members with different strengths. I think that the environment in which these six members can compete together and improve their strengths is directly linked to our strength as a team. Furthermore, all six players will grow together to make a strong Team Meiji.
Despite a lot of pressure for the upcoming All Japan Student Championship and the All Japan Championship team competition, we will remember to enjoy the game as a team and work hard to create a team where each player can show their best performance and aim for victory.
Lastly, I would like to express my deep gratitude to the alumni, parents, and staff of Meiji University for their continuous encouragement and support. We will do our best to return the favor with passionate performances, so please continue to support us.